Last Friday, among the 1,650 museum visitors were some very special guests, ranging from the Forebing family of California who drove more than 2,000 miles each way for the express purpose of touring the Creation Museum, and representatives of two Ohio radio stations: WPOS out of Toledo (3 hours away) and its three busloads of 160 listeners and WRFD of Columbus, Ohio, whose talk-show host Bob Burney made the 2-hour drive to set up for a live 3-hour remote broadcast inside the museum.
But the two guests who really stood out last Friday were Hans and Nancy Josephsen of Toledo. On Friday, the couple celebrated their 50th wedding anniversary, and where did they really want to spend their special day? Right here at our new museum!
AiG wanted to ensure that their stay would be extra-memorable. In the Special Effects Theater, we introduced the surprised couple to the audience who was awaiting the next showing of Men in White and presented them with an autographed copy of Ken Ham's best-selling book The Lie. AiG also briefly shared the couple's story of being missionaries in Vietnam, but who had to flee for the Philippines in 1975 when the North Vietnamese overran the South. Later in the day, the Josephsens happily told us that there may be many more Christians in Vietnam today than when it was non-Communist, a testimony to the strong Christian foundation that missionaries like the Josephsens—and the nationals ministering with him—established before 1975.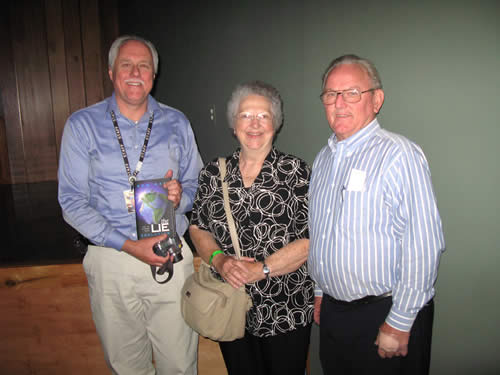 As Bob Burney of WRFD was telling his Ohio radio audience that the museum was a "spectacular place, and you must visit," the anniversary couple was a few feet away and ready to board the Toledo-bound chartered bus with the rest of the WPOS listeners.1 The Josephsens hugged some AiG staff members and remarked more than once how memorable the day had been. They also gave high praise to the talented museum staff for their exceptional exhibit design and videos (reserving the highest praise for the Men in White film in the SFX theater). They told us they plan to return.