I can't believe how the time has passed! Twenty-five years ago this month, my wife Mally and I made one of the most important decisions we've ever had to make. Little did we understand then the far-reaching implications of this decision, not only on our family, but on literally thousands and thousands of people around the world.
October 2004 is the 25th anniversary of our decision to resign my position as a public school biology teacher in Australia to become the first full-time worker for what became known as the "Creation Science Foundation" (later to change its name to that of the USA sister organization, Answers in Genesis).
In 1979, we didn't have funds in the bank or a large mailing list. But what we had was a sure calling from the Lord and a few friends who promised to help. And we fondly recall one family who owned a fruit and vegetable store that, for many months, faithfully dropped off a box of fruit and vegetables every week at our house.
We do have unique stories to tell about those early pioneering days, and the miraculous provisions from the Lord that enabled the embryonic ministry to grow to where it is today and to see a worldwide impact—but we'll save that for another time.
I was rummaging through some old boxes at our home here in Northern Kentucky recently and I came across a typed copy of the very first "relevance" sermon I ever preached. I remember the event surrounding that message very well.
Up to that time, I had been speaking on such topics as the age of the Earth, Noah's Flood and so on. People seemed to be interested and appreciated the talks, but what a difference it made when I began preaching on the foundational importance of the Book of Genesis to the Christian faith!
I also related society's (and much of the church's) rejection of a literal Genesis to major cultural issues like abortion, homosexual behavior and other social ills.
After reading The Genesis Record commentary by Dr. Henry Morris, I wrote a sermon on the "Relevance of Genesis." The first time I preached the message, I just read from my typed script. But people responded in ways I had never seen before.
For example, I recall their response being something like, "Wow—I've never heard this. I've never realized how important Genesis was—it makes so much sense."
Many people were suddenly excited about their Christian faith again.
After some more practice at delivering this relevance message, I began to give it without notes, and gradually made it more powerful and relevant. And the demand for creation resources like books and tapes began to grow exponentially. Awareness of the successes we were having in Australia reached across the ocean to the US.
In 1981, I was invited to travel to America to visit creation groups such as Master Books Publishing, ICR, Films for Christ, the Bible Science Association and other organizations. God used the relevance message in amazing ways.
I was invited back to conduct a number of speaking tours in America. In 1984, we recorded the first, to my knowledge, video of my relevance message. I think it was at a church in Kansas City. Recently I was given a copy of that video, and as I viewed it, something really "hit" me.
Even though I've changed somewhat (or should I say "a lot"—as I watched the video, I thought it was my son preaching!), the message I gave back in 1984 is just as relevant today—in fact, more so in 2004.
I was warning churches in America and Australia in 1984 that if God's people continued to compromise regarding the Book of Genesis—thus undermining the history that is foundational to all Christian doctrine—there would be increasing abortion, homosexual behavior, racism and other social ills. Sadly, that has happened.
Even though the "relevance" message has matured somewhat, I couldn't get over the fact that what I was warning Christians about more than 20 years ago is exactly what we see in the culture today—and so Answers in Genesis continues to warn the church and the culture concerning these same issues.
In 1986, my family and I came over to the US to work temporarily with Films for Christ in the Phoenix, Arizona area. I spent six months traveling across America speaking in seminars at nearly 100 churches and other venues.
Towards the end of that time, Films for Christ (which sponsors the website www.ChristianAnswers.net of which our website www.AnswersinGenesis.org is a founding member) decided to film my relevance talk.
We returned to Australia in 1986, and I (along with Dr. Gary Parker) conducted an extensive speaking tour through the states of Queensland and New South Wales. During that time, one of the most popular video series (Understanding Genesis) we've ever produced was filmed at a Bible college near Sydney.
I recently watched one of these videos entitled, not surprisingly, "The Relevance of Creation." I could see the effect that the US speaking tours had on what I was warning the church about concerning abortion, homosexual behavior and so on.
In 1987, my family and I said some teary goodbyes to our families in Australia and moved to the US to begin work with the Institute for Creation Research to develop popular seminar programs (the "Back to Genesis" meetings).
In 1987, Paul Taylor and his mother, Marian, from Films for Christ came to visit ICR and me to show us the film they had made of my relevance talk, which they called The Genesis Solution.
This film has been shown thousands of times in churches across America and in other countries (being translated into Russian and French as well). It was even nominated for "Best Documentary of the Year" at the national convention of the Christian Film Distributers Association in 1988.
There's no doubt that the release of The Genesis Solution film contributed greatly to the popularization of the "creation relevance message" around the world.
This relevance message (as we continue to call it) is really the backbone of our creation ministry outreach to the world today, including our extremely popular website and its multiple languages.
In December 1993, with the continued growth of the relevance message, AiG–US was born. Our family, along with a few others, moved to Kentucky in early 1994.
The technology has changed. I now use PowerPoint in my talks, not overhead projectors (and we have the web to get out the creation/gospel message). And I have to admit that my physical appearance has changed, too (just see our October newsletter for proof!). But the essence of the message hasn't changed at all. The warnings to the church are the same today.
What we were predicting 20 years ago concerning the culture is what we observe happening right now. It just goes to show me how vital this message is for today.
To celebrate and commemorate this 25th anniversary year, our media department has created a special DVD with excerpts from some of those early talks (with the rather youthful Ken Ham!). It also includes excerpts from the 1987 Genesis Solution film (with permission from Films for Christ and ChristianAnswers.net).
As a third feature, we've included my modern-day relevance message entitled Genesis: The Key to Reclaiming the Culture that I recorded recently.
There is also a bonus section that we taped last month where I give some additional, personal recollections of the development of the "relevance message" and the growing international AiG ministry. It's a one-of-a-kind DVD!
I want to ask you to prayerfully consider something this month: to join our celebration with an anniversary gift to AiG.
As you know, we have been publicizing the need for funds to build the Creation Museum—and we praise Him that $13.5 million of the $25 million has been raised!
But please don't forget that the backbone of this ministry is AiG's outreaches through the website, seminars, radio, books/tapes, etc. to challenge the church and the culture concerning the relevance of Genesis. We are, of course, so thankful for all those who have given (and continue to give, as we sure need this) toward the museum.
Now that we've closed our books for the summer, we've noticed that many AiG friends generously supported the museum fund. But in their excitement over the museum project, they apparently diverted their giving from the general fund. So, to help boost the general fund right now, we are offering you this very special, commemorative 25th anniversary DVD.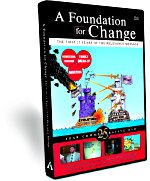 For a donation of any size, we would like to send you this faith-building, retrospective DVD. This professionally produced DVD will, I believe, greatly edify you with its Bible-centered teaching … and help you celebrate with Mally and me in seeing how God has used AiG after that scary faith step away from a secure position.
With your gift, you'll help our general fund at this crucial time. So, please visit our "support" section to receive this unique, commemorative DVD.
I trust that in sharing my heart with you about the history of AiG's relevance message, we have reaffirmed for you how vital the AiG ministry and its website are in upholding the Bible's authority and proclaiming the gospel in a decaying society.