Streaming Answers to a Nation in Need
Last year, Ken Ham, president of Answers in Genesis, delivered some very sobering statistics during our first-ever live video webcast. He revealed the reasons behind the collapse of Christianity in the Western world and showed why the country is on a spiritual downward spiral. The response to that webcast was overwhelming, as many in the church are seeking answers.
This year, be prepared for a reawakening.
Now that you know the causes of the collapse, join Ken for "The State of the Nation '10" to learn what we can do to call America back to the only sure foundation—biblical authority. Learn how to stand unashamed upon God's Word in the face of a skeptical society and how to share your faith. Discover ways to reach young people before they call it quits on church. And find out how we can do more than just watch our country slip into a moral quagmire.
Don't miss this free webcast. Mark your calendar for February 16 at 8:00 p.m. (EST) and visit AnswersLive.org to tune in.
AiG in Syndication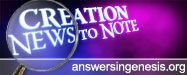 Our weekly Saturday feature, News to Note continues to be one of the most-read features of our website—with coverage of the news from a biblical perspective. Readers have come to expect cogent analysis of science, culture, theology, and many other topics.
Thanks to a recent agreement, we're excited to impact an even wider audience. OneNewsNow.com, a division of the American Family News Network, will now feature content from News to Note each week on their highly trafficked site. OneNewsNow is known for presenting the news from a Christian perspective, and we're glad to work with them in showing how science supports the Bible.
Expect to see the new column, Creation News to Note, each week on OneNewsNow.com. And, as always, visit our site every Saturday (and throughout the week) for the latest news and analysis.
Intelligent Blog Design
After building new blogs for the Answers Outreach speakers, the web team recently turned its attention to sprucing up the Creation Museum news blog. And we think you'll be pleased with the results.
If you're unfamiliar with Creation Museum news blog, it's the best place to find updates on events, special guests, and behind-the-scenes information about your favorite museum. You'll uncover testimonies, personal stories, photographs, and even apologetics.
The blog refresh is the perfect time to discover—or rediscover—the Creation Museum news blog. If you have a moment, let us know what you think.
In Store: One Big Flood, Two Important Volumes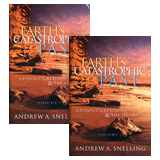 Nearly fifty years ago, creation science came to the forefront with the publication of the now-classic The Genesis Flood, the book that caused many Christians to re-examine the accuracy of the Genesis account. And this month marks the launch of a new "instant classic" that will once again change the face of creation research—and science.
Perhaps you've asked some of these questions. How old is the earth? What was the cause of the untold millions of fossils that we see today in the geologic record? What about rock layers—what do they tell us about the history of the earth? Can Christians take Genesis 1–11 literally?
Bringing together years of extensive fieldwork, a wide-ranging knowledge of geology, and scriptural understanding, Australian geologist Dr. Andrew Snelling has released the magnum opus of a life of intensive study, Earth's Catastrophic Past. This extensive two-volume set addresses the tough issues of geology.
Although the research provides in-depth insight into rock layers, radioisotopes, the Flood, and more, the book uses full-color graphs and images to help readers understand the complex topics. Chapter after chapter takes you step-by-step through the evolutionary interpretations of the geologic record, revealing the fallacious assumptions behind the ideas—and, in turn, presents an accurate, working geologic model based on the Bible.
If you desire to be better equipped to defend the biblical account of Creation and the Flood of Noah's day and to look deeper into the core issues of geology from a biblical perspective, don't pass up this ground-breaking resource.
Question of the Month
I'm looking for a Christian college with a solid biblical foundation. Do you have a list on your website?
While we do not maintain such a list, we do have a number of resources that should help you make an informed decision about which college to choose.
First, Answers in Genesis does not dogmatically recommend avoiding secular colleges. Why? Some majors and specialties are not offered at Christian colleges, and some Christian students have used their time at secular schools to reach out to those who don't know Christ. (Many of our staff members attended secular universities, in fact.) For more on one student's journey, see our free online book Fish out of Water. If you do attend a secular school, make sure you're prepared for likely attacks on your faith from professors and students and even possible discrimination.
On the other hand, many schools call themselves "Christian," but the pervasive nature of evolution/millions of years has caused a good number to stray from the clear teaching of Scripture. If you're not sure about a school you're considering, download our free questionnaire (PDF) and have the college provide answers. You can tell a great deal about the school based on what they believe about Genesis. This does not mean you should avoid the school necessarily, but know that you'll be facing compromise and teaching that undermines the Bible.
Finally, there are several universities and colleges that AiG regularly partners with in our Answers magazine (we carefully select our advertisers for their biblical stance). Visit the Answers website and check out the advertisements posted there (along the right-hand side)—or review a recent issue. Any college you find on our pages has affirmed its commitment to God and His Word.
Always be in prayerful consideration of college choices. And be equipped no matter what type of university you decide to attend.
(Have a question for InSite? Let us know! Be sure to mention that your question is intended for InSite.)
Did You Know?
Did you know that the state sending the most web traffic to AnswersinGenesis.org last year was California? This isn't too surprising, considering it's the most populous state in America, but the others in the top ten don't follow that expectation. California is followed by Texas, Ohio, Florida, New York, Kentucky, Pennsylvania, Illinois, Georgia, and Michigan. The states sending the least traffic? Vermont, Rhode Island, Delaware, Wyoming, and Hawaii. If your state is on that list, share our website with—well—everyone. Help us impact the culture and share the gospel.
About InSite