You Heard It Here First
We love articles—perhaps you've noticed. Our site features several new articles each week that discuss everything from the Bible to science to current events (we covered just how much we love providing quality content last month).
But we know our audience can be a pretty busy bunch—with personal devotions, churches, families, jobs, hobbies, and more. And we wanted to make it easier to get some of your favorite content on the go. How? Well, let's just say that this new feature speaks for itself. Really.
Starting this month, we're unveiling audio versions of some of our popular articles. At the top of these selected articles, you'll find an audio toolbox. Just hit play, and in a few seconds (depending on your connection), you'll be listening to a professional recording. Makes it easy to get an AiG update while checking your social media networks or browsing the web.
If you're really on the go, the audio toolbox also lets you download the file to your computer or smartphone. Then, you can listen while you jog or drive—or you can share the recording with a friend. It's a great way to show others that the Bible can be trusted.
So far, we've whipped up 16 articles for your listening enjoyment, and we hope to add many more. Check out our audio version article list to see what's there.
Your Website Award
For the second time in six years, Answers in Genesis has won the prestigious "Best Ministry Website" award from the 1,200-member NRB (National Religious Broadcasters). We're humbled, to say the least. But, really, this award is just as much for you—our supporters—as it is for us.
You push us to deliver the best content; you support our mission financially; you tell us what features you'd love to see; and—most importantly—you pray that our website will have an impact in sharing the truth of Scripture.
So, thank you for your support. We couldn't do it without you!
In Store: Towering Mystery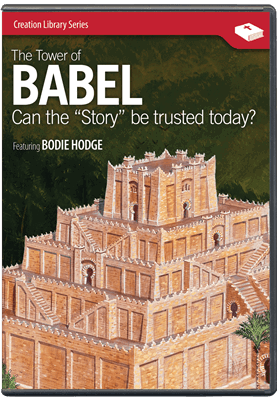 In Genesis 11, we're told about a tragic moment in the history of humanity. The settlers at Babel went out of their way to ensure that they would not be scattered, contrary to what God had commanded. They put down roots in one place and built a tower that they could rally around. Because of their arrogance, God judged them by confusing their languages.
But there are many details about this Tower of Babel that we aren't told. Who were these people who built it? What did it look like? Where did the people go afterward? How does Babel point to Jesus?
In fact, many Christians—including many theologians and academics—believe the events the Bible describes at Babel are myths or legends that need to be reinterpreted. They attack the account, saying it cannot possibly be based on fact.
But a new DVD from speaker and writer Bodie Hodge peers back in time and restores the Tower of Babel to its rightful place—as true history. In The Tower of Babel: Can the "Story" be Trusted Today? Bodie examines the biblical account, history, and scholarly research to piece together a firm defense of this important event.
You'll discover—once again—why the Bible can be trusted.
Question of the Month
I really enjoyed the feature article in your recent Answers Update newsletter. Is it online?
Most of our supporters receive a monthly newsletter in the mail that includes a feature article on an important topic, ministry updates, new resources, upcoming events, and more. If you don't receive one yet, you can get it for free by contacting us.
But the feature articles are too good to keep only in the newsletter. So, we've been faithfully adding them to our website over the years. That way, anyone can access them at any time—even if you've misplaced the printed newsletter.
If you'd like to take a look back or to share the articles, it's easy to do. You can either point your mouse at the "Get Answers" button in our navigation menu (blue bar at the top of the page) and choose "Print Newsletter," or you can click this link. As of this writing, you'll find almost 100 newsletter features to review.
(Have a question for InSite? Let us know! Be sure to mention that your question is intended for InSite.)
Did You Know?
Did you know that Ken Ham's blog has been going strong since 2005? And the daily updates continue to generate quite a bit of traffic. Last year, one of the most popular posts was something you should definitely check out if you missed it: Nine Year Old Challenges NASA.
About InSite