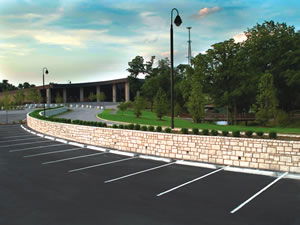 What an incredible year it has been!
The grand opening of the Creation Museum in May 2007 has brought publicity to the ministry at an unprecedented level. Museum attendance has far exceeded our projections and thousands have given us written feedback about the impact the museum and other AiG outreaches have had on their lives this year.
That is what the AiG ministry is all about—impacting and changing lives for Christ. As I travel around the world speaking, I am regularly approached by people who thank me and the ministry for boldly providing answers to the difficult questions they face in defending their faith and the truth of God's Word.
You'll see just a few of these life-changing testimonies throughout this year-end report. The impact has been amazing, and I trust you are encouraged by what you read.
I praise the Lord for the work He is doing at AiG and give all glory and honor to Him for what He is allowing us to accomplish. We believe the Lord has given us a tremendous opportunity with you as a partner to expand the impact we are having in America and around the world.
Thanks for being a part of this apologetics ministry. I hope you will also see that by investing in the Lord's work at AiG, you are impacting lives in a way that will provide eternal returns for the kingdom of Christ.
In Christ,

Ken Ham
President, AiG–U.S.
Impact through the Creation Museum
The long-awaited grand opening of the Creation Museum happened on May 28, 2007 with over 4,000 guests in attendance and 140 media outlets worldwide requesting press credentials.
"I spend most of my life piling up adjectives—that's what preachers do and that's what writers do, but I couldn't find enough adjectives to describe this place. There's nothing like it in the world. It's a staggering, stunning, and riveting presentation."
Dr. John MacArthur, pastor and best-selling author
The one-of-a-kind Creation Museum near the Cincinnati Airport had over 250,000 guests in 5 months (originally projected to have 250,000 in the first year). It is a 65,000 sq. ft. visual "walk through history"—according to the Bible and not evolution—that features world-class exhibits, a digital planetarium show, special effects theater, over 50 video presentations, and dozens of animatronic characters. A special children's exhibit area and other key enhancements are planned in the coming year. The remarkable attendance so far has helped the Creation Museum get off to a strong start. This has helped reduce the museum's budgeted donation need to just 25% of total museum revenue for the current year.
The Creation Museum has impacted thousands, as the following testimonies show:
"I wanted to hit my knees after I saw the 'Last Adam' film [a gospel presentation]. My friends got answers to all their questions and [name withheld], a nonbeliever, requested a Bible when we returned and she's reading it now. Please pray for her salvation because she is right on the line; the Holy Spirit just has to move her."—Anonymous
"The Creation Museum is spectacular! I've been a Christian for many years, but this museum has strengthened my faith. Visitors won't leave untouched after touring this museum."—Zig Ziglar, best-selling author and speaker
"After two teenage boys went through the museum and watched the powerful 'Last Adam' program, one of the boys said, 'For the first time I understand what it means that Jesus is the lamb of God.' The other boy said, 'now I know that God is real.'"—Conversation at the museum with AiG President Ken Ham
Check out some of these teaching and evangelism tools:
Impact from Teaching and Evangelism
With more than 10 full-time speakers on staff, AiG provided over 350 teaching events in the past year, equipping over 100,000 people around the world to defend the truth and authority of the Bible—and leading others to a saving knowledge of Jesus Christ.
This outreach department is on the front-lines in today's culture war and is critical in helping people to build their thinking from the Bible. It is also one of the many areas of the ministry that is not fully self-funded through resource sales and other revenue at the events. In fact, over 25% of this outreach effort is dependent upon gifts from our supporters to sustain it.
AiG has impacted thousands through its teaching events, as these testimonies show:
"I just wanted to thank you so much for your ministry. I heard Carl Kerby speak at my church back in July . . . I didn't realize at the time how much his presentation was going to impact my life. Since then I have dove into the web site and bought Demolishing Strongholds and several other videos. Carl's presentation and these videos, along with the Answers magazine have solidified my foundation of faith beyond what I ever imagined possible. And in sharing this information with others, I find that everyone is very hungry to know more, Christian and non-Christian alike. The AiG ministry has impacted my life so much that the Gospels now are so very real and take on a whole new meaning, and the entire Bible has come alive. The Word is ALIVE!!! I absolutely believe you have hit the nail on the head with the problems in the culture today. You are making a BIG difference. Thank you AiG and God bless you!"—B.M., Missouri
"I actually finally became a Christian because of one of your events. AiG changed everything. Weird questions I had like science conflicting with the Bible were answered. I learned to answer questions starting with the Bible as the basis. Thank you very much."—J.S., Ohio
Impact from Website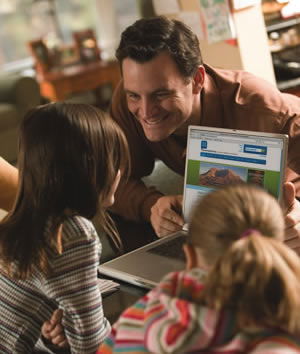 AiG's award-winning website, AnswersInGenesis.org, is one of the largest and most-visited Christian websites worldwide with around 30,000 viewers per day. Recently updated with a new look, this National Religious Broadcaster's 2006 website of the year is a primary source for relevant, reliable, Bible-upholding information.
This year AiG launched two new and extensive supplementary websites. One is focused entirely on the museum, CreationMuseum.org. It features news and information about the Creation Museum and helps guests plan their visit to the museum.
The other new, and much requested, website is dedicated to youth, KidsAnswers.org. It contains many exciting and engaging activities, videos, photos, and articles that help children to learn about the world around them, the truth of God's Word, and their need for the Savior.
Although many resources are sold through AiG's website, it does not generate revenue in and of itself and therefore is 100% dependent upon donations to support the staff and expenses of this incredible worldwide outreach.
AiG's web outreach has impacted thousands, as these testimonies show:
"Thank you so much for creating Kids Answers! What a treat to get to send my kids to a biblical, positive, and educational website that's fun."—T.J., Virginia
"Wow! I just visited your website for the first time today and it is amazing! I'm a student looking for ways to defend my faith and your website is a great resource for me. Thank you for all that you've done and may God continue to bless your work!"—E., Ohio
"I want to thank AiG for the great help you've been in my life. If it wasn't for your website, I don't know if I would be a Christian. I started to think that if evolution were true as they taught me in school, why should I believe in God? You opened my eyes up and showed me that the Bible can be trusted."—C.T., Michigan
Impact from Educational Resources
The main thrust of AiG's mission is to resourcefully equip Christians with answers to defend their faith (1 Peter 3:15), uphold the authority of the Word of God, and proclaim the gospel of Jesus Christ. Dozens of new educational resources were introduced this year.
"The kids are having a blast because they are actually learning something . . . and grasping [that the history in God's Word is true]. When I was a child, VBS was nothing like AiG's VBS program—it's impacting!"—Parent of an AiG VBS participant
"I almost cried last night after completing Ken Ham's book entitled, How Could a Loving God . . . ? The book has truly changed my perspective for life on loss and suffering. The message has provided answers to some of the perplexing questions about suffering and death that, quite frankly, many Christians like myself haven't understood. I sincerely thank Mr. Ham and pray God's bountiful blessings on his powerful ministry."—M.T., Virginia
"I am a new subscriber to Answers, and to say that I am impressed would be a gross understatement! I purchased back issues while visiting the Creation Museum, and I have not been able to put them down. Your magazine is one of the greatest tools I have found to assist in defending God's holy Word!"—N.F., Virginia
Although much of our educational resource ministry area is supported by product sales, many resources are given away as an outreach, and over 15% of AiG resource development costs must be supported by donations.
Here are a few of the areas in which AiG is producing educational resources:
Curricula: AiG's educational writers and researchers continue to develop first-class, biblically based science and other curricula, including AiG's first VBS curriculum, Amazon Expedition, featuring the Seven C's of biblical history.
Family Resources: Over 50 new books, DVDs, and other apologetic materials will be produced and distributed in the coming year. One of this year's most popular new resources is the 13-part DVD study series, Demolishing Strongholds, dynamically designed to equip young adults to defend their faith.
Answers magazine is a quarterly publication launched just over a year ago now with over 55,000 subscribers. More than just a creation science magazine, it features a strong biblical worldview with engaging articles for all ages and technical backgrounds, and includes a special pullout section just for kids.
Impact from Research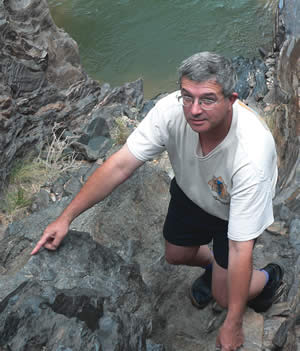 Providing highly qualified creation research is crucial to establishing credibility in a skeptical culture. Dr. Andrew Snelling (below center), one of the world's most respected creation scientists specializing in geological studies, recently joined Answers in Genesis as the ministry's new director of research.
Dr. Snelling's stature among the scientific community is an unequivocal sign to the academic world and the media that serious research is being conducted at AiG and its museum. New creation research projects confirming the truth of biblical history are advancing under Dr. Snelling's leadership. AiG's research area is funded 100% by gifts from supporters.
Impact from Radio
The Answers with Ken Ham 90-second teaching spot is now on over 1,000 radio stations worldwide (900 in the U.S.). Our new emotion-touching 60-second "mini-dramas" are featured on over 300 stations nationwide.
The radio outreach ministry does not receive any revenue from its programs and 100% of the radio production staff and expenses are supported through gifts to AiG. The impact of the radio ministry is widespread—including this testimony from Canada:
"I found you at a very critical time in my life. Hearing my professor tell me with such conviction that evolution is fact, and every single person on earth believes it, put me in a panic. I started to doubt, feeling as though maybe my faith really was blind . . . maybe there really were errors in the Bible. I suddenly remembered a short [radio] clip I'd heard on the local Christian radio station. I found your website, and God truly answered my prayers. I asked for answers, and He gave them to me . . . through you."—K.S., Manitoba
Impact from WorldWide Outreach
With plans to translate various AiG materials into over 100 languages, AiG's WorldWide division is impacting lives around the globe.
One of the top projects this year was a special video shoot. Ken Ham, Dr. David Crandall, and a video team traveled to Saipan to record a translation of multiple teaching presentations into Chinese (similar to the Spanish translation project last year in Mexico).
After Ken and Dr. Crandall presented the new Spanish DVDs to the pastor at a church in Cozumel, Mexico, the congregation was so appreciative. The pastor told the church that the DVDs would be copied and handed out across the island of Cozumel. Another one of the church leaders told us they really need these DVDs for their seminary students, for their youth group, etc.
The WorldWide outreach is another AiG ministry that is funded 100% from donation support.

Opportunity to Invest
In considering where to make your charitable investments, we would like you to prayerfully consider partnering with AiG and investing in a ministry that provides eternal returns for the kingdom of Christ. We believe AiG is on the front lines of the culture war and is providing the foundational tools to equip Christians to boldly defend and proclaim their faith.
In order to continue the mission AiG has before it this fiscal year, over 40% of the total revenue will come from gifts to the ministry totaling $9.8 million. Included in this total is over $2 million for the Creation Museum to support enhancements, new exhibits, repairs, and maintenance.
You can conveniently donate by calling AiG to make a donation (using your credit card) at 1-800-778-3390 (toll-free, M–F, 9 AM–7 PM ET), or to make a donation of investment securities or going to our secure website and donation page.