In the early morning hours today (December 2, 2016), a new creation was born at the Ark Encounter's Ararat Ridge Zoo in Williamstown, Kentucky. Five-year-old Zillah, one of the zoos two Plains Zebras, gave birth to "Baby Z," a male foal in the zebra exhibit enclosure. Zoo officials knew Zillah was pregnant, but due to the long gestation period, they did not have a specific due date. Zookeepers arrived Friday morning to find the foal already standing and following his mother around their yard. According to head zookeeper, Matt DeVoe, "Both are doing well, and the young striped equine is nursing as designed while mom is attending and recovering nicely."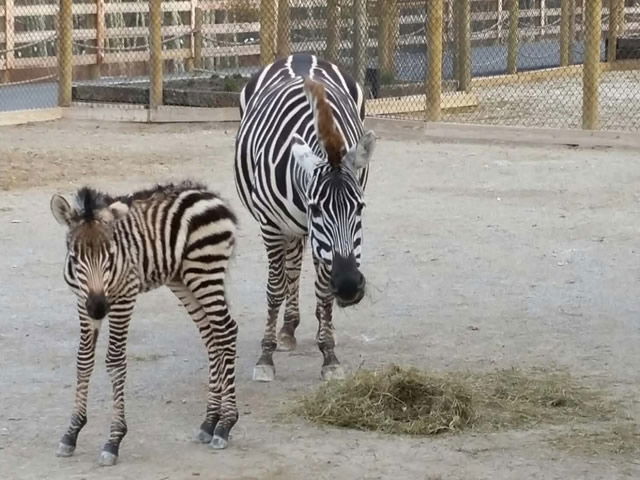 Plains (or Grant's) Zebra (Equus quagga) are part of the horse kind along with horses and donkeys. These zebra populations are not currently at risk and are found in over 15 African countries from Ethiopia to South Africa. Their stripes break up the body shape of individual animals in a herd to make it difficult for predators to target an individual animal during a hunt. Zebras have a lifespan of 25 years and a gestation ranging from 11–13 months, which makes it difficult to predict the time of birth. Zebras reach maturity between 3–6 years of age.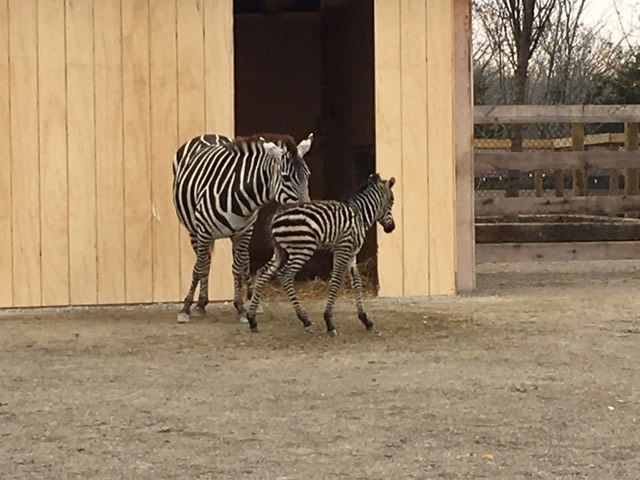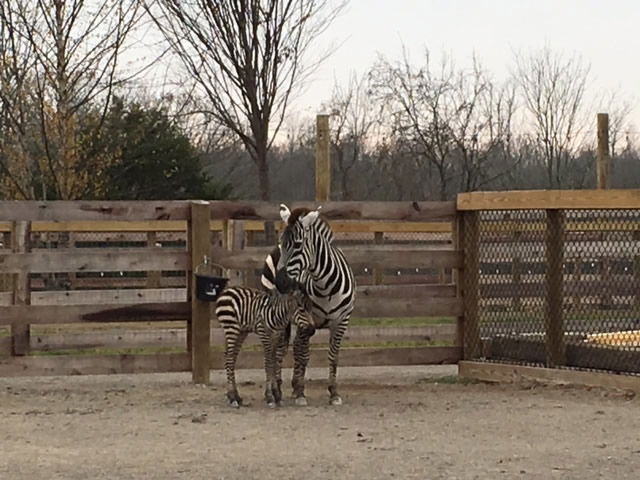 Zillah, her new foal, and Zipporah (the other adult female zebra) are on loan from a facility in Wisconsin. They are slated to return to their home in Wisconsin later this month. The small herd will be on display until they leave. Two young male zebra colts, owned by the Ararat Ridge Zoo, will inhabit the Ark's zebra exhibit after their departure.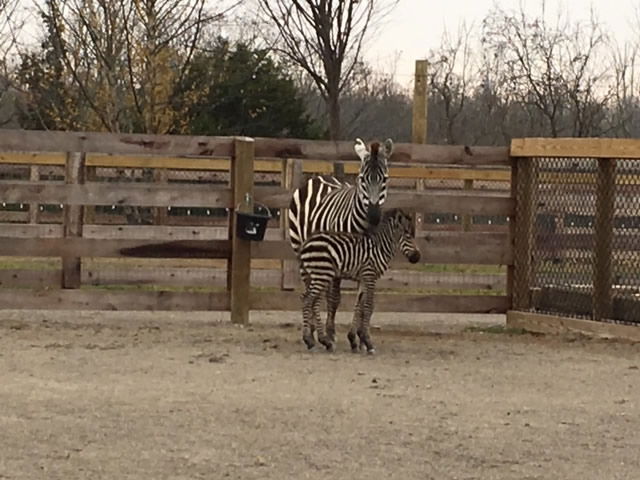 Hurry to the Ark Encounter for a chance to see the zebra foal and family before they leave!
The Ark Encounter and its zoo, which are approaching 500,000 visitors since opening in July, will be nicely decorated for Christmas. The grounds will be beautifully lit on December 16–23 and 26–30 (the same days at Christmas Town at the Ark's sister attraction, the Creation Museum, 45 minutes away). The Ark will remain open until 8 p.m. on those dates. Admission to both the Ark and its Ararat Ridge Zoo behind the ship will be half price after 5 p.m., and parking after 5 p.m. will be free, December 16–23 and 26–30. For more information, visit ArkEncounter.com.