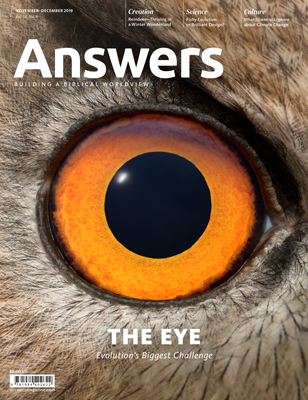 This article is fascinating—you won't want to miss it! This newest issue also includes articles on "fishy" evolution, what scientists ignore about climate change, and how reindeer are able to thrive in their frigid home. You'll also find these articles:
Why Do Children Suffer? Only God's Word can give us answers about suffering—and offer comfort.
Is There Life on Other Planets? "Is there life out there?" Science doesn't have the answer, but the Bible does.
Millions of Micro Movers. The cells in your body are bustling with proteins, called kinesin, that faithfully deliver their hefty "packages" to each destination.
Is a Biblical Worldview Optional? Our worldview affects every area of life. So parents cannot afford to depend on others to form their children's worldview.
Is the Bible's Cosmology Borrowed from Pagan Myths? Did the Bible simply borrow its view of the universe from ancient pagan religions?
Your kids will also learn about the design of eyes throughout creation, including their own, in a kids' mini magazine included with your subscription. This short magazine for children is a great way to help them to build a biblical worldview.
Don't miss this issue—be sure to subscribe today. You can either subscribe directly or consider taking advantage of our partnership with Pure Flix. Pure Flix, the leading faith and family friendly video streaming service, hosts all of our Answers in Genesis video content on their site (over 500 videos!). And, right now, they are offering a super combo which includes a year of movie streaming (including all of our videos), a year of Answers magazine (six issues of the print and digital versions), and more. And for a limited time, this super combo is available at a special fall price. It's a great deal and it expires soon, so don't miss it! Visit AnswersMagazine.com/pureflix.
Or you can subscribe to Answers magazine at AnswersMagazine.com. Either way, when you subscribe to the magazine you receive it in three different formats; print, digital, and audio.
Thanks for stopping by and thanks for praying,
Ken
This item was written with the assistance of AiG's research team.