Now in its fourth year, Camp Infinity (Ci) has added new camps each summer to keep up with the growing demand. Ci offers camps for young people from grades 3–6 and 7–12 as well as a family camp. Parents and science-minded, academically driven young people love the practical STEM activities—including the very popular robotics program—combined with biblical truth. Ci is dedicated not only to teaching academics, but also to imparting lasting biblical truth and creation apologetics to the next generation of scientists and researchers.
Campers Tour the Ark Encounter and Creation Museum
Every year, Ci campers tour the Creation Museum and a secular natural history museum to see how both worldviews clash. They clearly see that the battle isn't over the data—it's over two different starting points. And, new this year, Ci campers will tour the Ark Encounter (located just 45 minutes from the Creation Museum) to get equipped with answers about Noah's Ark, the animal kinds, Flood geology, the Ice Age, and more.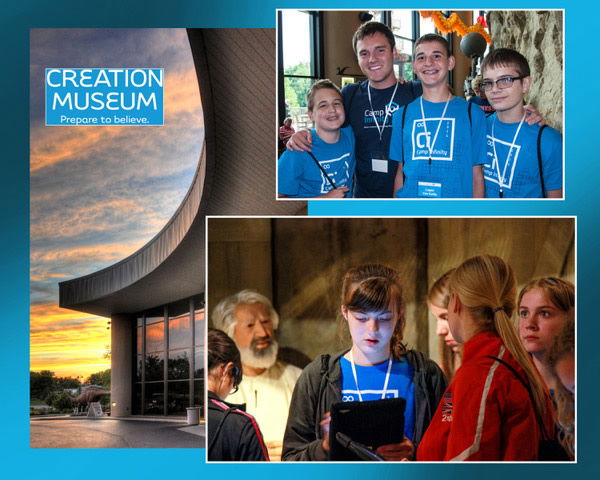 ET, Cosmology, and Space Exploration
The theme for this year's summer camps is space exploration. Campers will learn about
supposed extraterrestrials
cosmology
space exploration
artificial intelligence (AI)
and the uniqueness of man (an increasingly popular topic at these camps).
Campers will learn to think biblically about some deep questions that our culture is wrestling with as scientists look to conquer the heavens and develop increasingly complex (and seemingly human) AI.
Apply Today
If you have a science-minded young person, I can't recommend Camp Infinity highly enough.
If you have a science-minded young person, I can't recommend Camp Infinity highly enough. Dan Wooster, the camp director and AiG board member, has a passion for equipping young people to stand on the authority of God's Word. And he's surrounded himself with an excellent team of counselors who will help direct your child toward Christ and the Bible, while growing their curiosity to study God's creation.
Scholarships are available until May 15, 2017. Learn more at CampInfinity.com.
Thanks for stopping by and thanks for praying,
Ken
This item was written with the assistance of AiG's research team.