On Thursday, February 25, 2016, at 8:00 p.m. (Central Time), join AiG's Resurrection expert, Tim Chaffey, and Eric Hovind of Creation Today in a free webinar on "10 Things You Should Know about the Risen Movie." You will learn how to evaluate this film biblically and will also receive answers to the most common objections to the Resurrection of Christ. You'll learn about the evidence for the Resurrection and take a look at which Old Testament prophecies Jesus fulfilled in His death and Resurrection. You won't want to miss this insightful and powerful webinar!
You can read Tim Chaffey's review of Risen in "Risen Movie Upholds Scripture."
The central event in Christianity is the Resurrection of Jesus Christ from the dead. The physical, bodily, historical resurrection of Christ is so important that Paul says that we are hopeless without it (1 Corinthians 15:14, 17) and that "we are of all men the most pitiable" (1 Corinthians 15:19).
But—as Paul says—"Christ is risen from the dead" (1 Corinthians 15:20). There are "many infallible proofs" (Acts 1:3) that confirm that this is indeed true. Can you defend the historicity of Christ, His death, and Resurrection?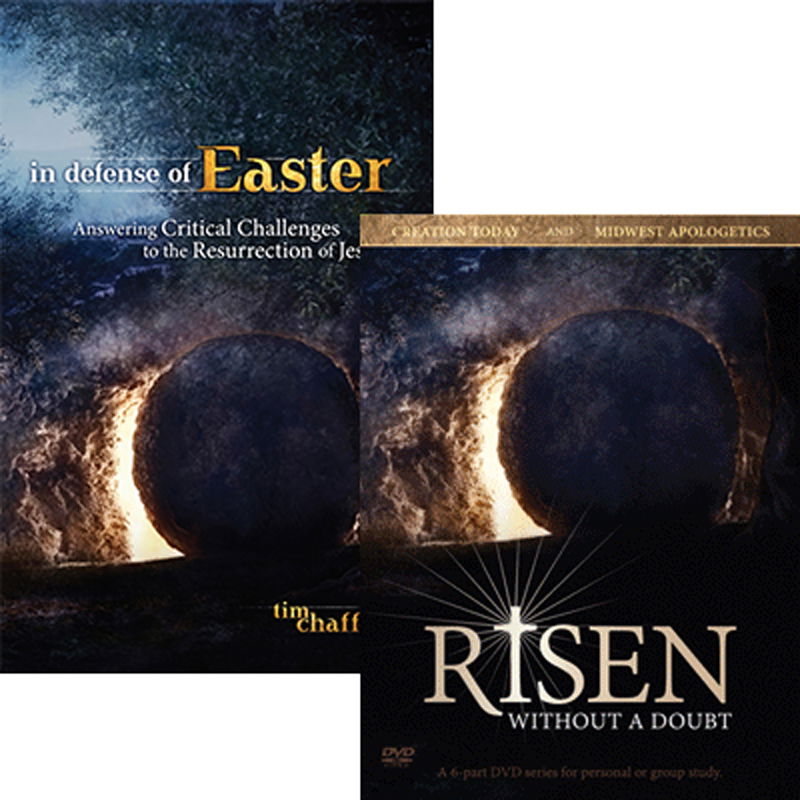 Well, in addition to the upcoming webinar, there's a new resource pack available in our store that will equip you to defend this incredible, history-changing event. The "Risen Easter Pack" includes Tim Chaffey's book In Defense of Easter and a brand-new six DVD set, Risen Without a Doubt, featuring Tim Chaffey and Eric Hovind. These resources will bring the events of Christ's final week, death, and Resurrection to life, and they will prepare you to defend the Resurrection of Jesus Christ to a skeptical world.
This set is excellent for personal or group study. Learn more and view a trailer of Risen Without a Doubt on our store website.
Thanks for stopping by and thanks for praying,
Ken
This item was written with the assistance of AiG's research team.