According to our local paper The Cincinnati Enquirer, a national "readers' poll conducted jointly by USA Today and 10Best.com . . . currently has the Cincinnati's Zoo's [sic] Festival of Lights ranked the No. 1 holiday-themed zoo lights show in the country."
At the same time, I wanted to let you know that we have heard from more than a few people who have visited our Christmas Town outreach at the Creation Museum and believe the tens of thousands of brightly-colored lights we display on the museum grounds in December—most of them wrapped around our three-acre lake—are even more beautiful than the wonderful lights at the Cincinnati Zoo.
Check it out for yourself—Christmas Town is free, and starts tonight. It will be held every Friday and Saturday in December (except Christmas Day), and we'll have a bonus day of Monday, December 28, to end the season. At 4:00 p.m. each Christmas Town night, Buddy Davis and I, with some special guests (hint: a character from Genesis 6–9 will be here), will give a one-hour presentation that offers museum visitors a journey through time, and it will have lots of great music. It's free, and museum admission after 5:00 p.m. is only $5 per person (museum closes at 8:00 p.m.).
Here is a photo of just one portion of our Christmas Town light display.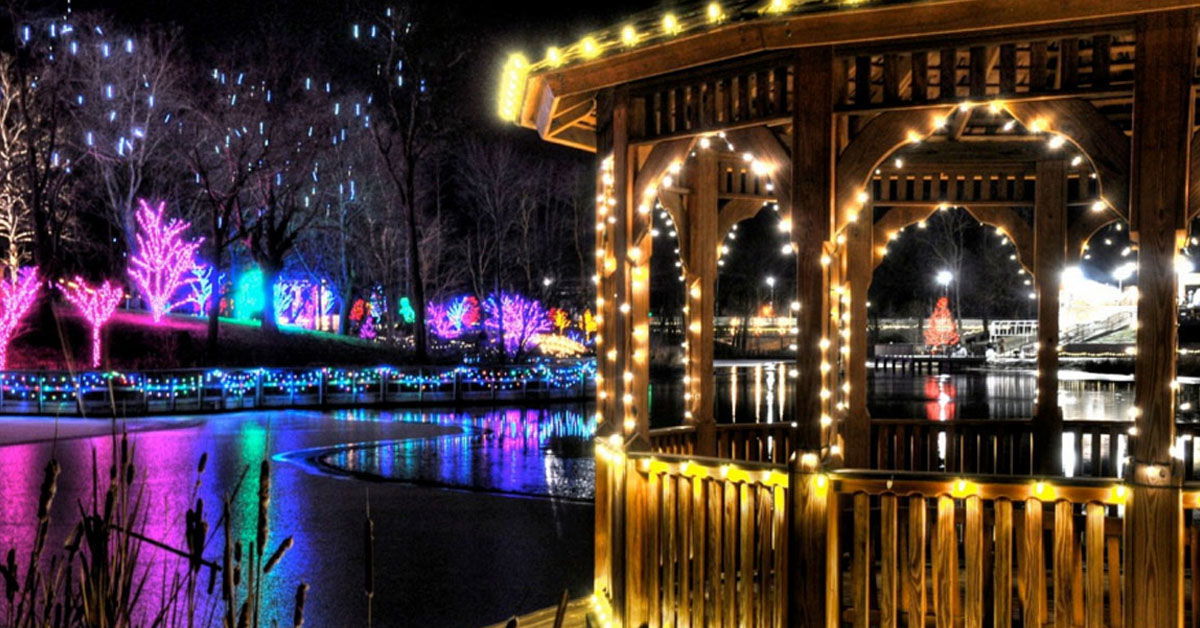 While Christmas Town is a fun, highly visual experience for families, it is also a time to reflect on the greatest gift ever given to us: the free gift of salvation through Jesus Christ, who was the Babe in the manger. Christmas Town at the Creation Museum is our way to say "thank you" to our region for its support and to offer families a free gift at Christmas—complimentary admission to Christmas Town.
Christmas Town now attracts people from several states each year (the average visitor travels more than 130 miles one way to get here). For more information about this Christmas tradition at the Creation Museum, which includes a live nativity, lots of shopping possibilities for Christmas, and a special 4:00 p.m. presentation by Buddy Davis and me on Fridays and Saturdays, visit the Creation Museum website.
Think about visiting both the Cincinnati Zoo and the Creation Museum this month!
Thanks for stopping by and thanks for praying,
Ken