A new atheist billboard now appears along the interstate in Riverside, California. These billboards feature a beautiful sunrise over a mountain scene and say, "Don't believe in God? You are not alone," and then give a web address.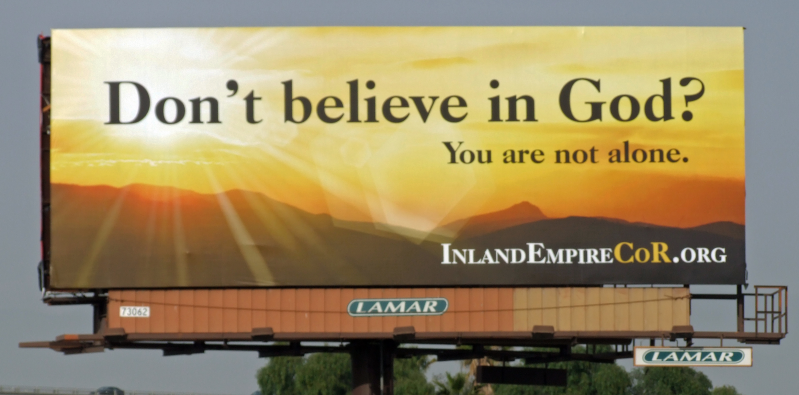 This board is just one version of many similar boards from other atheist organizations in different parts of the country. Rather than comment on these boards, I thought I would just let Scripture do the talking.
For the wrath of God is revealed from heaven against all ungodliness and unrighteousness of men, who suppress the truth in unrighteousness, because what may be known of God is manifest in them, for God has shown it to them. For since the creation of the world His invisible attributes are clearly seen, being understood by the things that are made, even His eternal power and Godhead, so that they are without excuse, because, although they knew God, they did not glorify Him as God, nor were thankful, but became futile in their thoughts, and their foolish hearts were darkened. Professing to be wise, they became fools, and changed the glory of the incorruptible God into an image made like corruptible man—and birds and four-footed animals and creeping things. (Romans 1:18–23)
The fool has said in his heart, "There is no God." (Psalm 14:1)
This is
the message
that these atheists need to hear and believe!
For God so loved the world that He gave His only begotten Son, that whoever believes in Him should not perish but have everlasting life. For God did not send His Son into the world to condemn the world, but that the world through Him might be saved. He who believes in Him is not condemned; but he who does not believe is condemned already, because he has not believed in the name of the only begotten Son of God. (John 3:16–18)
Thanks for stopping by and thanks for
praying
,
Ken
This item was written with the assistance of AiG's research team.