For about 25 years, I have had the privilege of speaking at the Word of Life conference and Bible Institute facilities in New York State. I have given conferences for the general public and also spoken to Bible Institute students there at beautiful Schroon Lake.
Word of Life sends out singing and drama groups throughout the country to minister in churches and other places, and also to draw attention to the Word of Life ministries—cofounded by the wonderful Christian leader, the late Jack Wyrtzen. Word of Life's singing group "Redemption" visited the Creation Museum on Monday. Here is a short video of "Redemption" singing inside the main hall of the museum (the slight noise in the background is our waterfall in the hall):
Here is a photo of the "Redemption" group at the museum: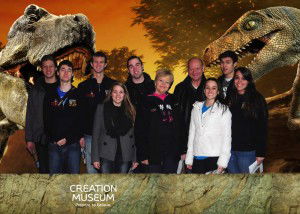 Find out more about the Bible institute by going to www.wordoflife.edu.
The Word of Life website shares the ministry's purpose statement: "Reaching young people around the world for the Gospel of Christ and teaching them how to walk with the Lord." It has facilities in Florida and New York.
I will be speaking at a Word of Life Bible conference with my brother, Steve, and our musician Buddy Davis, on June 22–28 in New York state. See http://wolcamps.org/schedule2014
Thanks for stopping by and thanks for praying, Ken