The Answers Mega Conference is right around the corner—but it's not too late to register your family to attend our major national conference for 2013. The Answers Mega Conference is July 22–26 in beautiful Sevierville, Tennessee (near Gatlinburg). Once again we'll meet at the city's excellent convention center.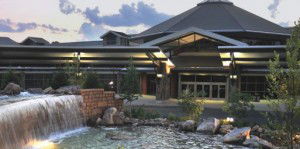 This year, you'll hear from some excellent speakers on the topic of life issues in our culture. Just this week, Steve Ham, our director of international outreach, gave a talk in our staff meeting on the sanctity of life and the image of God. His main point was that the value of human life is derived from the Word of God. In Genesis 1, the Lord God says that man is made in His image:
Then God said, "Let Us make man in Our image, according to Our likeness; let them have dominion over the fish of the sea, over the birds of the air, and over the cattle, over all the earth and over every creeping thing that creeps on the earth." So God created man in His own image; in the image of God He created him; male and female He created them. Then God blessed them, and God said to them, "Be fruitful and multiply; fill the earth and subdue it; have dominion over the fish of the sea, over the birds of the air, and over every living thing that moves on the earth." (Genesis 1:26–28)
God made men and women in His image, and He blessed them. And do you know what? This even includes the unborn. In an increasingly secular culture, our society places incredibly low value on unborn babies. They aren't even considered to be persons! But God's Word is clear:
all
mankind is created in His image, and so
all
mankind has value. This is an important truth to remember, especially when faced with such a staggeringly high abortion rate in the U.S. Abortion is the practice of murdering humans beings made in God's image.
Steve will be giving this same talk at the Answers Mega Conference next month, alongside a great line-up of speakers, including Tony Perkins of Family Research Council, Todd Friel of Wretched Radio, Eric Hovind from Creation Today, Mark Coppenger from Southern Baptist Theological Seminary, and Bill Jack with Worldview Weekends. And, of course, I will be there—with all your favorite AiG speakers.
I will be speaking on the "great delusion" that permeates the land, what we can do about it, and how to rescue our kids from this great delusion.
There are so many other features of this year's Mega Conference as well! We will have special music celebrations with Buddy Davis and John Elliott. We also offer a full children's program featuring the Kingdom Chronicles VBS for ages 4 to 12. Our teens will be challenged with targeted sessions on critical thinking and worldview issues. Beyond these things, you can participate in the two-day Answers Research Summit. Full description and schedule of all these activities is available on the Mega Conference website.
I urge you to register your family today at www.answersmega.org. If you register before Monday, July 1, you can also purchase discounted tickets for the family-friendly Dollywood theme park or the exciting Dixie Stampede dinner show. So far, we have several hundred families registered to attend!
Thanks for stopping by and thanks for praying, Ken