In recent years, atheists have been actively involved in billboard campaigns across America, not just to promote their atheism, but to mock God and scoff at Christians.
I've also increasingly noticed on Facebook, blogs, and other places on the internet that the atheists typically won't oppose Christians with the "facts"—they resort to name-calling, blaspheming, or produce fraudulent items in their attempts to discredit, malign, and defame Christians.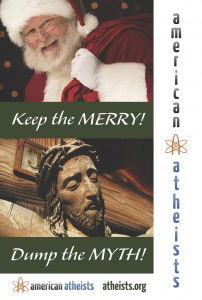 The latest billboard campaign in Times Square in New York is another of their attacks.
In an article on Fox News we read the following:
Just as midtown Manhattan comes alive with Christmas cheer, festive window displays and Salvation Army bell ringers trying to channel holiday generosity to the needy, an atheist group has a message for the masses teeming into Times Square: Jesus is a myth.

With a picture of Santa Claus above another image of Jesus Christ, the sign, sponsored by New Jersey-based American Atheists, urges passersby to "Keep the Merry!" and "Dump the Myth!" Attacks on Christianity from the group have become routine, and in the bustling heart of America's busiest city, most folks don't even waste a shrug on the sign.
The article then quotes David Silverman, president of American Atheists (he debated Dr. Terry Mortenson of AiG on CNN last June):
"Most Christians are really atheists who feel trapped in their family's religion," Silverman told FoxNews.com. "They need not be Christian to enjoy the holiday season."
The Fox News article continues as follows:
The ad is the latest in holiday-themed billboards put up by the group every year. In 2011, American Atheists posted a variety of ads as part of a "Myth" campaign in three states with images of Santa,

Jesus

, Greek

god

Poseidon, and the Devil with the phrase, "37 million Americans know MYTHS when they see one."

The Catholic League has battled it out with Silverman's group in the past, even posting opposing signs on each end of the Lincoln Tunnel in 2010. But Catholic League spokesman Bill Donohue said Silverman went too far this year.

"This year it's different," he said. "This is vile. When you depict Jesus on the cross with a crown of thorns, this is exploitative. We as Christians never harass, intimidate or insult atheists. But they can't seem to say, 'We simply disagree with you.' They have to insult us."
Read can read the Fox News article at
this link
.
Yesterday on my Facebook page, I posted an item about a number of secularist websites that had posted a fraudulent item to defame me and discredit AiG. Our attorneys had to write demand letters to get the items taken down. Here is what was written on my Facebook page:
A number of websites and bloggers are circulating a fabricated page that they claim comes from one of my older books, "The Dinosaurs of Eden." The original wording has been removed using Photoshop (or similar means) and new text has been inserted that contains inflammatory language. We do not know yet where the false text and Photoshopping originated, but we have strong suspicions.

Our attorney has been sending "take-down" letters to the sites that have posted this manufactured page. We are advised by our attorney that the manufactured page infringes on AiG's copyright by using AiG's original illustrations without permission. More important, the fabricated wording included in that page harms AiG by misrepresenting the ministry in a defamatory manner. The fabricated wording attributes statements and beliefs to AiG that the ministry has not made and does not hold. Clearly, the manufactured page is not parody or an attempt at commentary under what's called "fair use"; instead, it is an attempt to cast the ministry in a false light.

In this electronic age, such attacks on Bible-upholding groups are on the rise, especially from secularists who have no absolute standard of right and wrong in their meaningless and purposeless world, and who have no qualms about using the web and other means to pass around false and defamatory information.
The atheists are certainly on the attack–looking on Christians as the enemy. We can only expect attacks like this to continue.
Thanks for stopping by and thanks for praying,
Ken