Last week in our hometown newspaper, The Cincinnati Enquirer, a front-page article reported how tourism is a big part of our Cincinnati and Northern Kentucky economy. With attractions like the Cincinnati Zoo, Newport Aquarium, the Cincinnati Museum Center (which is now hosting an excellent Dead Sea Scrolls exhibition), the 15 counties that make up the region saw $4.1 billion in spending by tourists last year.
In the front-page Enquirer article, our Creation Museum was spotlighted with a nice photo of one of our animatronic dinosaurs that led a montage of photos of a few local attractions. During a downtown Cincinnati briefing for the media and others sponsored by local tourism officials, one of the leaders mentioned the Creation Museum as a major draw to the area. By the way, a study we conducted a few years ago indicated that about 51% of the people visiting our museum were traveling from more than 250 miles away and were staying an averaged 1.8 nights in a local hotel. Tens of millions of dollars are spent in the area by our museum visitors each year, and they are also taking in a Cincinnati Reds baseball game, touring the Dead Sea Scrolls exhibit, and so much more. And tens of thousands of jobs are supported by tourism in the region.
Here is a scan of a part of the front page of the Enquirer.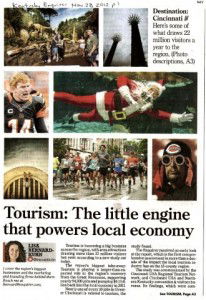 A great reason to visit the Creation Museum this month is to take part in our annual Christmas Town program. With tens of thousands of lights, special dramas, live nativity, camel rides, and more, it's one of the finest Christmas programs in the whole nation. Over 25,000 people came out last year over eight evenings. This month—starting tomorrow—we'll hold this free Christmas Town outreach every Friday and Saturday evening (even after Christmas).
So make your plans to travel to Northern Kentucky and visit us during Christmas Town!
I'll be returning to America from Australia this week, and one of the things I look forward to the most is seeing Christmas Town for myself.
Here is a panoramic photo of the museum grounds during a prior Christmas Town.

Thanks for stopping by and thanks for praying,
Ken