A personal friend and AiG supporter, John Cook, recently donated an airplane he had for 36 years to be used for missionary work in my homeland of Australia. He said the following:
I was an AOPA member all those years of being a pilot. I dropped my membership when I gave the plane to JAARS [formerly known as "Jungle Aviation and Radio Service"]. Membership was expensive, plus I sort of hated to read about flying if I wasn't going to be flying anymore. Giving away my airplane and admitting I was no longer going to fly was one of the hardest things I've had to do. But knowing it was going to the Lord's work eased the pain.

The project has been fully funded now, except for some incidentals. The pilot is preparing to move to Australia, and is in training for his new ministry, and in supplemental training for the particular airplane. The airplane will be based in Darwin. Missionary Aviation Fellowship (MAF) is partnering with JAARS to allow them to reassemble the plane at their facility at Gove Airport a short distance from Nhulunbuy in East Arnhem Land, Northern Territory, Australia by JAARS mechanics who will fly over to do the work. That's also one of the areas the missionary will be flying to and from Darwin.
The plane is
being shipped to Cairns
—the Aussie town where I was born.
Notice the irony. This plane—owned by a creationist—is heading off to a town named after Charles Darwin!
We praise the Lord for the way he uses different people at different times in various ways to proclaim the gospel around the world.
John, we pray the Lord will use this airplane to reach many for him.
John Elliott Visits AiG
AiG staff recently really enjoyed a visit by well-known Christian musician John Elliott. John led the staff in a time of praise through his music. John has been one of the featured musicians at a number of AiG conferences, and he has become a special friend of our ministry.
Here are some photos of John as he ministered to the staff in Legacy Hall. He played our donated grand piano.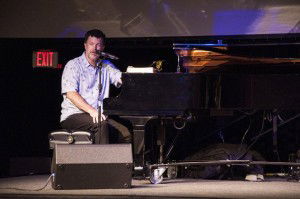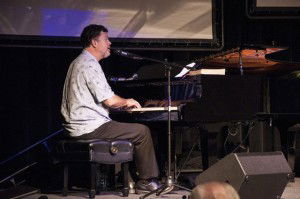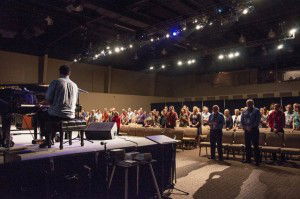 You can find out more about the music of John Elliott at his website.
Thanks for stopping by and thanks for praying,
Ken