To many children (and their parents), the AiG dinosaur sculptor, singer, and speaker, Buddy Davis, is also a movie star. Many people know that Buddy and his wife Kay were involved in the original vision for the Creation Museum because they had a burden to see the dinosaurs Buddy had sculpted to be used to teach people the truth about God's Word.
Over the years, Buddy's ministry has really blossomed at AiG. He now runs regular workshops, concerts, and other programs at the Creation Museum, and he speaks in churches across the country (and other parts of the world). Buddy has produced numerous CDs with his original songs for all ages and also a number of DVDs, including some great video programs for kids.
Recently, Buddy produced the DVD I Dig Dinosaurs. It's already becoming popular.
This past Thursday, Ben Wilt (who heads up AiG's AV division) gave our staff a preview of the soon-to-be-released DVD Swamp Man. This will be such a fun video for the whole family, with lots of great teaching. Buddy and the video team went to Florida, and they had great fun in the swamps looking for alligators and other creatures. You are going to want to get this DVD as soon as it is released, so keep watch for Buddy's new DVD called Swamp Man to be released August 1. The AiG staff loved the preview they had of parts of this incredible production. One of our animators (Mike Prather) actually animated an entire song Buddy sang for the video—it is so well done and so entertaining. I never cease to be amazed at the talented people God has brought to AiG.
Here is a photo of Ben Wilt as he showed AiG staff some "takes" from the new Buddy DVD: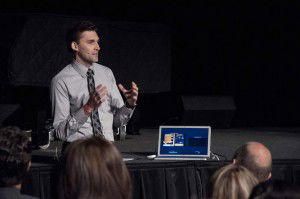 This is a sneak preview of what the cover of the new DVD will look like: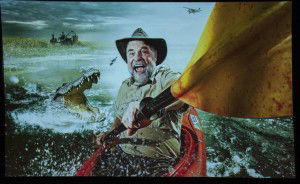 Please pray for Buddy and Kay and their wonderful ministry at AiG that many more children and adults will be reached with the truth of God's Word and the gospel.
Thanks for stopping by and thanks for praying,
Ken