A couple who have been dating visited the Creation Museum recently. Sam decided to propose to Ginger (both of them live in Pennsylvania) inside the gazebo next to the museum's lake. See them in the following photo, with the gazebo in the background (taken the day after he popped the question):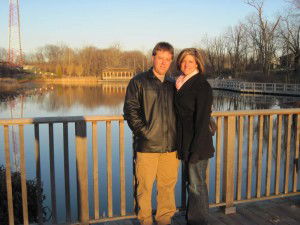 Then the photo below was taken the evening Sam proposed question. Sam also chose such a romantic setting because of the beautifully decorated grounds in the evening for our recent Christmas Town celebrations (we had over 60,000 lights on display).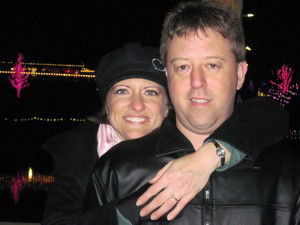 By the way, over 25,000 visitors came to Christmas Town over eight evenings last month!
Ginger gave us more of the background:
We headed out on Friday and made it in time to see the live nativity scene. We toured through "Bethlehem," the botanical gardens, listened to a Magi, saw the animals, and started walking around the lake—making our way back to the warmth of the inside. But Sam wanted to make a detour into the gazebo to take some pictures. After a few minutes, the gazebo had cleared of people. He knelt down (not on one knee, but two) and proposed to me. It surely was a memorable experience, and the Creation Museum was a beautiful place to have it. We are getting married on March 24.
Congratulations to the couple!
Thanks for stopping by and thanks for praying,
Ken