I hope you had a blessed Christmas. With several grandkids in the area, I certainly did!
As a part of a special Christmas reunion, the president of Maranatha Baptist Bible College in Wisconsin joined several family members here at the Creation Museum last week. Dr. Marty Marriott was in our area especially to spend Christmas with his mother, who lives near Cincinnati (Dr. Marriott's hometown), and several other family members—including a son about to leave for the country of Wales as a missionary.
The following photo is Dr. Marriott with me just outside Noah's Café at the Creation Museum: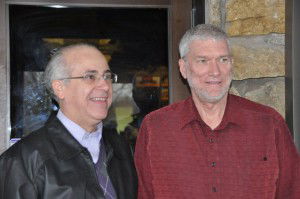 The college, which started in 1968 and is now a Bible/liberal arts school, has the following sentence in its statement of faith: "We believe in . . . Six creation days of twenty-four hours each."  This school is on our list of creationist colleges, where schools declare that they agree with the Answers in Genesis statement of faith and thus take a strong stand on biblical authority.
Go to this web page to see Dr. Marriott's speaking schedule, and if you live in any one of these areas, I encourage you to hear Dr. Marriott speak and learn more about MBBC.
The college's general website, which includes a link to MBBC's sister institution (a seminary), is http://www.mbbc.edu/.
Christmas Town—Don't Miss Out
Our special Christmas Town events at the museum continue today and for three additional evenings this week—almost all the activities are free. See
http://creationmuseum.org/christmas/
.
Don't miss this spectacular, world-class event.
Thanks for stopping by and thanks for praying,
Ken