Interest in the Creation Museum continues to be strong well outside the boundaries of the United States. Recently, a crew of three people representing the Russian-language service of Hope TV spent the day at the museum for a special documentary they're doing on the topic of Creation and Science. They interviewed Dr. Andrew Snelling (see photo below), who is our staff geologist, in the Dinosaur Den section of the museum, and also Dr. Georgia Purdom, who has a PhD in molecular genetics. I have to admit that it is wonderful to be able to rely on my AiG colleagues who have higher academic qualifications than I have to conduct such interviews, especially when the topics get into technical areas that this Russian crew asked about—like radiometric dating, the Ice Age, etc.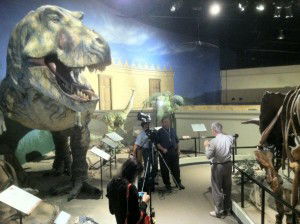 We don't know when this special program will air in Russia and other Russian-speaking countries (e.g., Ukraine). In the meantime, we shared with the TV producer that we have twelve talks of mine (the Foundations series) recently dubbed into Russian, which will be ready for release in a few weeks. They were produced in cooperation with our friends at the Slavic Gospel Association in the Chicago area.
In a later blog post, I will let you know about a very special trip that AiG made last weekend to Moscow, which is related to these new Russian videos and their very warm reception by Christian leaders. It will be very inspiring.
As the TV producer was interviewing Dr. Purdom in the museum's main hall, a family from Siberia happened to be listening in. They were stunned to hear their Russian language being spoken amongst the crew. So we will be sending a complimentary copy of my new DVD set Foundations in Russian for this family as well.
Then during the day, a television reporter from Dateline Australia (SBS TV) was here to film many of the museum exhibits, and the next day, he interviewed me on the theme of "an Australian living in America" and having something of a national profile the U.S. Frankly, I can be somewhat leery about how the Australian (and British) press can cover a Bible-proclaiming ministry like ours (the U.S. media are generally better, believe it or not), but all we ask for is balanced and accurate reporting. The Australian reporter has had a fascinating background. He has covered all sorts of horrible international tragedies in the past few decades, and was there at the fall of Saigon in 1975. Knowing that background, I made sure to address the question of why we have suffering, bloodshed, disease, etc. in this world if there is a God. Also, because Dr. Andrew Snelling, our geologist, is also from Australia, the reporter interviewed him too.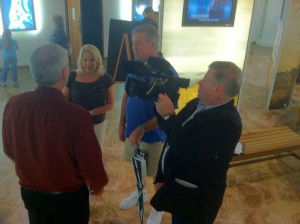 Thanks for stopping by and thanks for praying,
Ken