This morning at our chapel, staff watched a 15-minute video that celebrates the fiftieth anniversary of the classic book The Genesis Flood. The video also honored the book's surviving co-author, Dr. John Whitcomb. This same video was shown Monday evening at Faith Baptist Bible College and Seminary near Des Moines, Iowa, as this school hosted Dr. Whitcomb (he speaks many times on campus this week). You can watch the video that was shown Monday evening in Iowa at www.CreationWorks.net.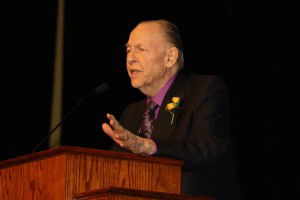 We are planning our own celebration of The Genesis Flood book in our new Legacy Hall inside the Creation Museum next month. On Friday evening and all-day Saturday, October 14–15, we will look at the remarkable long-term effects of this groundbreaking book, including how God used it to touch off the modern creation movement worldwide. Dr. Whitcomb and Dr. John Morris (the son of the book's other co-author, Dr. Henry Morris) will speak. See our conference info on the event page.
In the video, I share something about the impact the book had on my life, and how I first came across it. And there are other tributes from AiG staff members, Dr. Terry Mortenson and Dr. Andrew Snelling. You'll also watch testimonials from Christian leaders like Dr. John MacArthur of Grace Community Church in California, Dr. Woodrow Kroll of Back to the Bible radio, and many others. Dr. John Morris, president of ICR, is also in the video.
To sign up for our Friday evening banquet on October 14, which will have delicious food, a talk by Dr. Whitcomb, and also a live presentation by Dr. John Morris, go to the event page. The conference on Saturday, October 15, is free for all paying museum guests.
Also, you can watch a different video that features an interview with Dr. John Whitcomb, preceded by a few comments by me on The Genesis Flood as I spoke at an AiG staff chapel.
Thanks for stopping by and thanks for praying,
Ken