We are thrilled that AiG is sponsoring the All-Asian Creation Apologetics Conference in Kuala Lumpur, Malaysia, this November. You can actually come early as a tourist and make it a "creation vacation." We have two different brochures—one to advertise to people in the USA.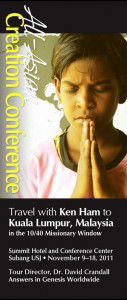 And one to advertise in Asia (and Australia).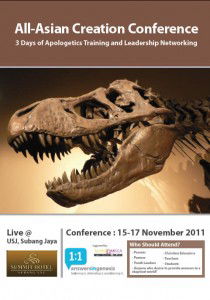 The Asian brochure has been sent to over 20 countries.
Australians can register online. (They need to purchase their own flights.) The price for the tour, hotel, and conference is $1,250 per person (November 11–17).
The price for the hotel and conference is $250 per person (November 15–17).  The price for just the conference—no hotel—is $50 per person.
Rain Forest—An Exotic AiG Adventure
The following is what I have been told about this remarkable rain forest—an excursion available to those who attend the All-Asian Creation Conference:
Considered by many to be the most exotic and diverse rain forest in the world is the Taman Negara Rain Forest in Malaysia.  Those who attend the All Asian Creation Conference (Kuala Lumpur, Malaysia, November  9–18, 2011) will be taken by coach directly into the Rain Forest  and will spend two nights at the Rain Forest Resort.

The park has been developed into a famous ecotourism destination in Malaysia. Creationists will marvel at God's creative skills as they witness the diversity of the forest and see various geological and biological attractions in the park.  Gunung Tahan is the highest point of the Malay Peninsula; climbers can use Kuala Tahan or Merapoh as their departure point. Taman Negara is the home of such rare mammals  as the Malayan Tiger, Crab-eating macaque, Sumatran Rhinoceros, Great Argus, Red Junglefowl, Malayan Gaur (seladang), and the Asian Elephant.  Among the birdlife, the rare Malayan Peacock-pheasant is still found in some numbers.  Tahan River has been preserved to protect the Malaysian mahseer (ikankelahin Malay), a type of game fish.

Others attractions found near Kuala Tahan (park headquarters for Pahang) include a canopy walkway, GuaTelinga (cave system), and LataBerkoh (rapid). Visitors can enjoy the tropical rain forest, birdwatching, or jungle trekking (e.g., Tenor Rentis), and the river views along the Tahan River.

Please check out the resort at http://www.rainforest-tamannegara.com/.

Each person can choose activities according to personal interest and ability.  Just being at the resort places each visitor in the rain forest with all its sights and sounds.  Christians will want to sing "How Great Thou Art" when viewing this amazing part of God's Creation.
Sign up today for this amazing and once-in-a-lifetime AiG exotic adventure and creation conference.
See sign up information and details at www.answersworldwide.org/aacc.
Thanks for stopping by and thanks for praying,
Ken