In over 17 years, AiG has been blessed with many volunteers. One of our volunteers of long standing is Art Hunsicker, who has been a faithful volunteer for 14–15 years, and he is celebrating his ninetieth birthday today!
The following photos were taken at Art's surprise birthday party Sunday night at Bible Chapel of Delhi Hills (Ohio):
As we approach Memorial Day (May 30), we also want to pay tribute to Art as an Army veteran. He fought in the famous Battle of the Bulge (the winter of 1944/45 in the forests of Belgium). One of our staff told me that he must have experienced some bone-chilling cold and constant bombardment by the German Army—it must have been a harrowing time. Today, we salute Art for his service to America and also to his Lord.
In the photo below, you can see Art in the back row (second from the left—in the white coat, standing behind his wife Betty who is in a wheelchair). He was part of a group that came from his church to visit the museum recently (Bible Chapel of Delhi Hills); Art's pastor, Kevin Landis, stands just to Art's left and is in the gray coat (Kevin has been a great friend of the ministry for all of our 17 years).
To Art's right in the group photo is another long-time volunteer for the ministry (much of his woodworking is on display inside the museum, including a magnificent fireplace in the bookstore): Gene Earnest.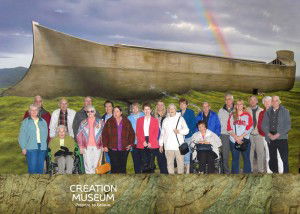 By the way, Art still faithfully volunteers at AiG! If you want to read more about the incredible Battle of the Bulge (it was the German Army's final counter-offensive against the Allied forces that had been so successful since D-Day (June 1944), go to www.army.mil/botb/.  It has been described as one of the greatest battles in American history.
Thanks for stopping by and thanks for praying,
Ken