We get to meet a lot of interesting visitors at the Creation Museum.
On Thursday of this week, the Creation Museum had a group of visitors from the Mennonite Disaster Service. Their leader, Mr. Paul Brubacher, said that the Mennonite Disaster Service has its national headquarters in Akron, Pennsylvania, and sends groups out all over the USA and Canada to provide manpower for the clean up, repair, and rebuilding efforts after natural disasters. They are an all-volunteer organization and have been functioning since 1950. They have 50 self-contained units throughout the USA. Here is a photo of the group taken when they visited this past Thursday: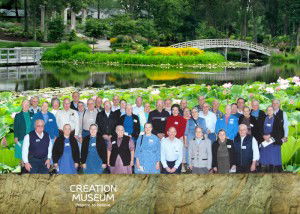 Special Anniversary
Tomorrow is a special day: it is the unofficial fiftieth anniversary of the publication of the book that really started the modern biblical creation movement—
The Genesis Flood
.  We will have a special lead article on our website, and I will write a blog post that will deal with a different "angle" on the topic of the Genesis Flood.
Thanks for stopping by and thanks for praying,
Ken