Buddy Davis, other AiG staff, and participants are currently at a dinosaur dig in Montana.  Here is a short report from them:

This is Beth Guich from California who thought the dinosaur dig in Montana would be a great birthday present for her 70-year-old mom, Mary Pientka. You can tell by the smile on mom's face that being a paleontologist for a week wasn't such a bad idea!

Long Island, New York, is a long way for these two fathers to bring their boys for a very entertaining and educational field trip.  Look at the teen-agers smile!

Maybe we'll be blessed with a find like this T-rex foot claw this week (being held by Buddy Davis)!
A "Visitor" to the Creation Museum
Here is a different sort of visitor that came to the
Creation Museum
recently.   Deb Minnard, SFX photographer, took this photograph of a woodcock in the landscaping just outside the front doors.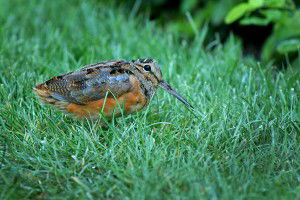 Awesome
From an excited Creation Museum visitor:
A bunch of my friends have visited the Creation Museum. It sure is an amazing place -- truly the best museum I have ever attended, because it presents the absolute truth. It honors God in all of the displays.

I love the "Last Adam" film. We enjoyed "Men in White." I tell all my friends that they have to see those two films, but I don't tell them too much about Men in White because I don't want to spoil the fun surprises.  I also tell my friends that they need to take two days to fully enjoy the museum.

The staff at the museum are top notch; everyone is helpful and courteous. Someone was always nearby to answer questions. Your website made it very easy for me to set up our trip. It was the easiest trip I ever planned. Thank you . . . for a truly wonderful experience. The museum truly presents the need for our Savior, Jesus Christ. I asked my husband after our visit his thoughts about the museum. He had the same exact word that I had, AWESOME!
Devotion
I called him alone

(Isaiah 51:2)  Look unto Abraham your father, and unto Sarah that bare you: for I called him alone, and blessed him, and increased him.

(1Peter 3:6)  Even as Sara obeyed Abraham, calling him lord: whose daughters you are, as long as ye do well, and are not afraid with any amazement.

God directly called Abraham alone; as Sarah obeyed her husband, she found her calling in life as she came to know that Abraham's calling was her calling also.
Thanks for stopping by and thanks for
praying
,
Ken