While many visitors are exploring the one-of-a-kind Creation Museum, the museum's promotions team is busy traveling into communities throughout our region. So far this summer, we have had booths at several Christian music festivals, three baseball games, as well as a couple of conventions in our Cincinnati tri-state area.
Here are some photos of our booths at a few of the musical events:
Ichthus Festival—Wilmore, Kentucky
Recently, we had a booth at the Ichthus Music Festival in Wilmore, Kentucky. Tens of thousands of people attend this four-day event, which is held about one and a half hours south of the Creation Museum. We were able to talk to many young people and youth leaders about the museum and the ministry of Answers in Genesis.
These events are a lot of fun for our staff and their families to attend as they minister outside the walls of the museum. Even the youngest family members get involved!
SpiritSong—Mason, Ohio
We had a booth at SpiritSong, which is a Christian music event at King's Island amusement park (about 45 minutes northeast of the museum). Museum wristbands, brochures, bags, and Seven C's of History tracts flew off the table. We also had a drawing at the table where people who attended the concert could enter to win museum tickets and a dinosaur bobble-head.
WFCJ's Annual Outdoor Christian Concert—Dayton, Ohio
For the second year in a row, we attended one of our radio partner's annual Christian concert at Island Park in Dayton, Ohio (about an hour north of the museum). The concert draws thousands of people.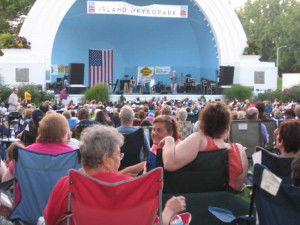 We are grateful to have relationships with radio stations like WFCJ and their partner station, WEEC, who host these events and on occasion include Creation Museum tickets in their on-air giveaways.
Congratulations
Congratulations to Carl and Tish Kerby (Carl "Jr." is the son of AiG speaker Carl Kerby) on the arrival of their first
-
born son—for which they praise the Lord.  Trey William Kerby was born Wednesday, 7/14/2010, at 5:48pm. He weighed 8.4 lb. and was 22 inches long with great big basketball feet and daddy's eyes! And of course, congratulations to first time grandparents, Carl and Masami Kerby.
Devotion
I have set the land before you

(Deuteronomy 1:8)  Behold, I have set the land before you: go in and possess the land which the LORD swore unto your fathers, Abraham, Isaac, and Jacob, to give unto them and to their seed after them.

The Lord Jesus Christ calls us to see the great doors of gospel opportunity He set before us; we look for them and determine to go through them in spite of difficulties.
Thanks for stopping by and thanks for
praying
,
Ken