While speaking at the homeschool convention in Virginia yesterday, a young boy came up to me and said, "Mr. Ham, I'm excited about your presentations, and I love Dinosaurs."  I asked him how old he was and he said, "My name is TJ and I am seven." So I just had to get my photograph taken with young TJ.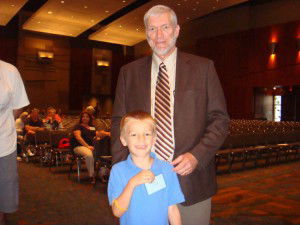 What is so encouraging to me is the number of children like TJ who I meet who love God's Word and just love the AiG ministry. For them, this apologetics ministry helps make the Bible real and also gives them ammunition to defend the Christian faith.  I pray we will see many more like TJ being raised up for God's army in this world.
I spoke to around 3000 or more different people today at the workshops and keynote at the convention.  At the same time, our AiG team was teaching the AiG VBS program, The Egypt File, to hundreds of children.
Buddy Davis led the team and of course taught the children some of his famous songs.  I will include some photographs in tomorrow's blog.
New "Digital Downloads" Tab
We now have a new "
Digital Downloads
" tab in the online store. Go to our store's
home page
, then look down the left (blue) column. Right now there are "Video Downloads" and "Audio Downloads." PDF downloads of charts and posters, leaflets, fliers, etc., will be added soon.
Thanks for stopping by and thanks for praying,
Ken