Recently, Answers in Genesis released its DIGITAL version of Answers magazine.  This makes it easy for people in other countries to get the magazine electronically without the high cost of postage.  Recently, a soldier  deployed in IRAQ subscribed to the digital magazine and sent this email about the influence of the AiG ministry in his family:
Things over here are much better as far as peace is concerned, this is my third deployment and I have never seen it go so well. . . . I will be here until . . . next year. My family is doing great and learning so much from the Answers magazines, I am so pleased at what a Biblical Worldview is doing for them and how it is shaping their future. God has used all that you are doing to help me develop my children and educate them in this world with a strong foundation to build on and learn for a lifetime. Thank you again, we will be visiting the Museum . . . when I come home on leave and we are so excited about that trip. My sister and her family just came back from visiting in June and they can't stop talking about how educational and wonderful their trip was. God bless you all
The Egypt File
It is thrilling to announce the new VBS for 2010—THE EGYPT FILE.  This will be AiG's third Vacation Bible School (VBS) program.  A major distinctive of what AiG produces is the emphasis on biblical authority, the gospel and apologetics—for KIDS!  Here is information we sent out this week concerning THE EGYPT FILE.  You can find out more information from AiG's website.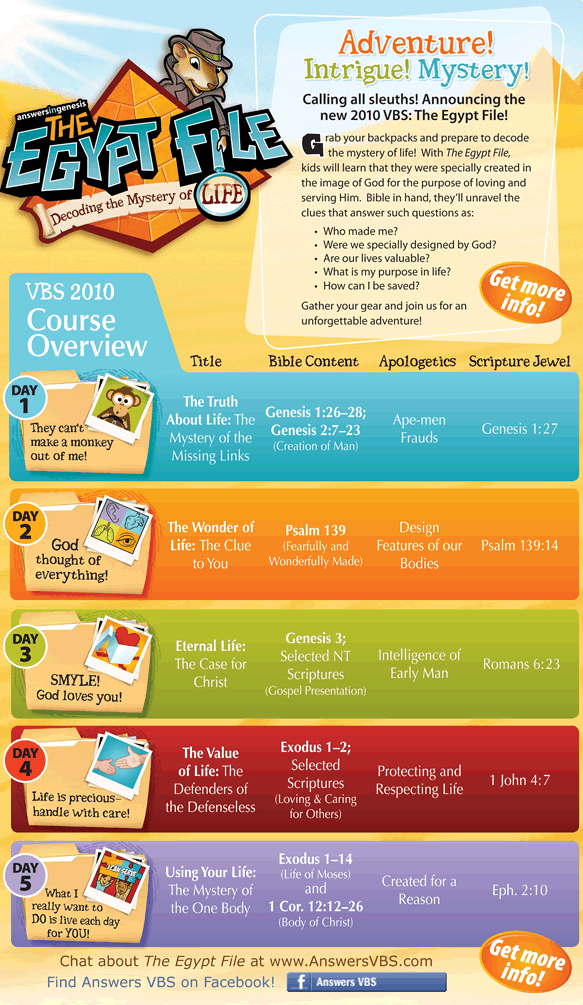 Last Night's Indy race
A lot of rain had made the surface of the racetrack unsafe for much of the day, but two Indy car races were eventually run—though  later than expected—Saturday evening at the Kentucky Speedway.  In the first race, the Firestone Indy Lights 100, Brandon Wagner—a 21-year-old driving an Indy car with the Creation Museum logo displayed prominently in a few places—finished 11th out of 19 spots.  See what the car looked like, and see Brandon give a greeting to Answers in Genesis, by watching this video:
Soon on this blog I'll let you know more about this weekend's Cincinnati Reds game where the Creation Museum was the "title" sponsor. Tens of thousands of fans were introduced to the museum (only 20 minutes away) and received our literature (including witnessing materials).
Thanks for stopping by and thanks for praying,
Ken