If you subscribe to our weekly e-newsletter you probably already know about the "20% OFF EVERYTHING" sale that expires tonight (via the AiG–U.S. website). This includes books, DVDs, magazines, t-shirts, and science toys.
I had to ask our web team if it also includes items that are already on sale, and it does. So, 20% is the minimum you would save. Some items are as much as 80% off. If you don't receive the e-newsletter, I want you to have an opportunity to get this extra 20% savings, too. We really do want to get these life-changing resources into your hands so you can reach as many friends and other loved ones as possible–perhaps as Christmas gifts.
In these dark times spiritually and economically, people need the creation/gospel/biblical authority message than ever before. This is an incredible opportunity for you to get resources into their hands for extraordinary prices. When you visit the online store, www.AnswersBookstore.com, just enter the coupon code "EVERYTHING" during checkout (no quotation marks). You'll get an extra 20% off, but don't forget that it expires tonight.
For more info, see the online offer. Out of the hundreds of resources we offer, there are only a couple of exceptions to this sale (museum tickets and quilts).
Another Museum Visit by a Major Christian Leader
Last Wednesday we were honored to have with us (once again) Wendy Wright, president of the large group Concerned Women for America (based in Washington, D.C.). She paid her third visit to our
Creation Museum
(we have only been open 18 months) while visiting her sister Terri up in Dayton, Ohio. Wendy was even here at the museum on its opening day (May 2007).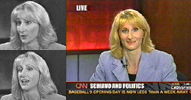 The group she leads, CWA, has over 500,000 members. CWA is recognized as America's largest public policy women's organization. Two years ago, Wendy was named among "The 100 Most Powerful Women of Washington" by the Washingtonian magazine.
Wendy is a staunch creationist and even features in a recent TV documentary hosted by famed evolutionist-atheist Dr. Richard Dawkins. Dr. Richard Dawkins conducted a lengthy interview with Wendy in her Washington, D.C., offices last year, and as a non-scientist, she acquitted herself quite well. What viewers weren't told is that she was not informed by the TV producers  (from Channel 4 out of England) who her questioner would be, and so, after the cameras and lights had been set up, to her surprise in walked evolutionist Dawkins! He was, Wendy told us, quite antagonistic, but the few minutes of their exchange came out as not too hostile on the screen.
CWA had me as a guest many times on its former national radio program. That includes during the days when CWA's founder/president, Beverly LaHaye, was the program's host—in fact, I saw Mrs. LaHaye recently on the East Coast, and we enjoyed catching up on things.
AiG is an apolitical ministry and thus is not directly involved in legislative or legal efforts to change laws. But we are encouraged to know that there are Christian leaders like Wendy who are standing up for biblical truths in America, especially in pro-life areas (she is especially well-known as an anti-abortion activist).
Taxpayer Cash Given to Atheist Group
According to the London (U.K.)
Telegraph
:
£35,000 of taxpayers' cash given to "atheist bus" group
An atheist group planning to put adverts on London buses declaring that "there's probably no God" has been given £35,000 in taxpayers' money.
The article reports that:
The British Humanist Association, which is running a campaign to get rid of faith schools and wants to end the Church of England's position as the established religion, was given the grant by the Government's equality watchdog and is using it to stage a series of debates about the place of religion in public life. . . . The BHA says it is dedicated to bringing about "a world without religious privilege or discrimination" and represents "people who seek to live good lives without religious or superstitious beliefs."
So, how does an atheist group define
good
—other than its own subjective opinions?
Matthew 19:16,17:  Now behold, one came and said to Him [Jesus], "Good Teacher, what good thing shall I do that I may have eternal life?" So He said to him, "Why do you call Me good? No one is good but One, that is, God."
You can read the entire Telegraph report at:
http://www.telegraph.co.uk/news/newstopics/religion/3521024/35000-of-taxpayers-cash-given-to-atheist-bus-group.html
Thanks for stopping by and thanks for praying,
Ken