"VCC" stands for "Video Conference Coordinator." Video conferences are a special outreach of AiG run by Bob and Jan Thompson. Volunteer coordinators from across the USA are trained to run AiG video seminars in their local community.
Last Saturday was the 8th VCC training class since the spring of 2006. Twenty couples were represented and traveled from California, Utah, Arkansas, Oklahoma, North Carolina, Tennessee, Illinois, Michigan, South Carolina, Virginia, Maryland, New Hampshire, Wisconsin, and Pennsylvania. Also attending were three VCCs who were previously certified, and they offered extremely valuable help in hosting the large group.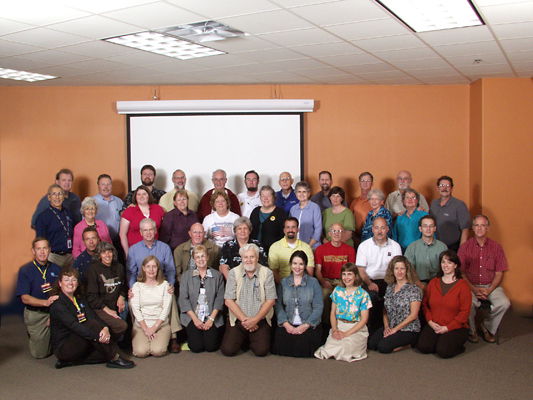 Clancy McCurdy, of Famous Dave's BBQ restaurant in our area, provided an incredible lunch, and the wonderful support group here at AiG made it another smashing success! The next training class is scheduled for April of 2009, and information to apply can be found at www.answersingenesis.org/events/cvvcc
The purpose of training couples as volunteer video conference coordinators is to allow AiG to be represented in smaller venues throughout the country at no required fee.  To schedule a Video Conference to equip your church family, go to www.answersingenesis.org/events.
News from Saipan
Drs. Tommy and Elizabeth Mitchell and AiG staff member Laura Perrin report from their mission to the Pacific island of Saipan:
Last Saturday brought a welcome rest for our Saipan medical mission team. The entire day was devoted to sightseeing. There are all sorts of interesting things to visit on Saipan, many relating to events of World War II.

The team first visited Banzai Cliff on the northern tip of the island. During WW II many people took their lives by jumping from this cliff onto the rocks below. There are several memorials here remembering this unfortunate event. It is difficult to imagine such a horrible tragedy occurring in such a beautiful place.

Bird Island Sanctuary was also one of the stops during the day. The lookout point here provided one of the most breathtaking sights of the trip. Some shopping was done along with a short visit to the beach.

The team enjoyed dinner at a Thai restaurant with the teachers who are hosting Laura while our team is there. Then the team returned to prepare for the seminar session Saturday evening. The team sends its thanks and regards to all who helped make this trip possible. A difference is being made in Saipan.
I have included some photographs taken by the team on Saturday:
Devotion
The will to not offer to God what costs nothing

(2 Samuel 24:24)  And the king said unto Araunah, Nay; but I will surely buy it of thee at a price: neither will I offer burnt offerings unto the LORD my God of that which doth cost me nothing. So David bought the threshing floor and the oxen for fifty shekels of silver.

Our morning time is the most valuable, and when we bring that time to the Lord Jesus Christ in morning devotions it is a costly sacrifice that He is pleased with.
Thanks for stopping by and thanks for
praying
,
Ken