I had to share this exciting email with you:
Below is a message our granddaughter . . . wanted to send to you. She was with us as we visited the Creation Museum this past April. She met you, and you spent a few minutes talking with her and us as you were back on your way to a meeting. . .  . She had prayed that she would get to meet you and Mr. [Buddy] Davis. Her prayers were answered. She wanted to email you. . . .
Dear Ken Ham,
I really enjoyed visiting the Creation Museum. I got those two books called, The Answers Book for Kids, Volume 1 and 2. I really enjoyed the walk through history: Creation to Consummation. It felt like walking into a time machine starting with the beginning of the whole earth.

Isn't God amazing??? He made the world really beautiful just for us. And we didn't even do a thing! He loved us that much. Well, thank you for being open to our family when we saw the Creation Museum and met you for the first time.
Newlyweds
We had a young couple, Andrew and Amy, at the museum last week on their honeymoon. They are from Three Rivers, Michigan, and first saw me speak at a conference at Word of Life in New York in 2006. They were married on September 6. They bought a two-day pass and were thoroughly enjoying experiencing the museum.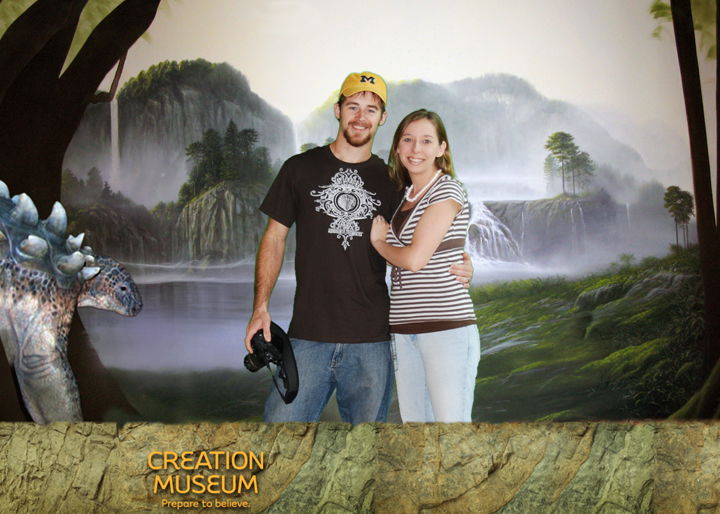 Congratulations to these newlyweds!
Photos of the Day
Yesterday was the last day Mally and I spent in Jackson, Wyoming, for this trip out west. We did some sightseeing and obtained some very unique photographs.
1. My favorite! A Grizzly walked in front of our car just 20 yards from us. I was able to snap a really great photo.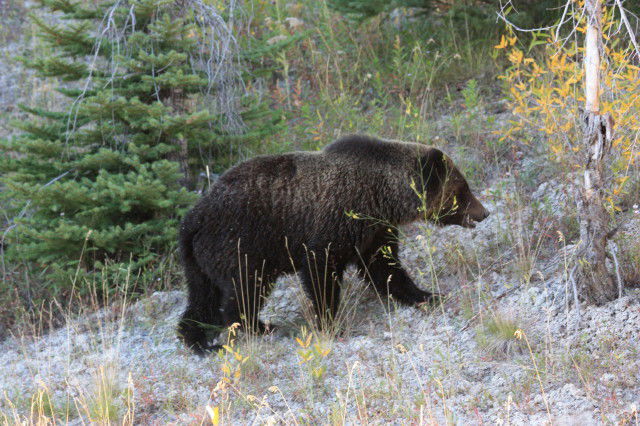 2. A unique opportunity—a moose with her two offspring eating from willow trees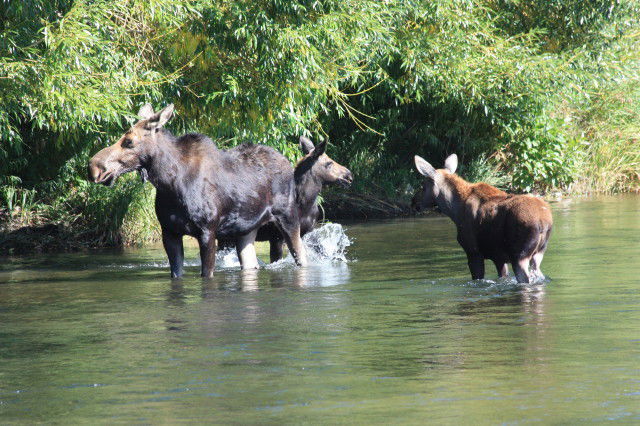 3. Two photos of Mally and me taken at different locations
4. Two photos of Bison near the Tetons
Devotion
Our center

(2 Samuel 6:11–12) And the ark of the LORD continued in the house of Obededom the Gittite three months: and the LORD blessed Obededom, and all his household. And it was told king David, saying, The LORD hath blessed the house of Obededom, and all that pertaineth unto him, because of the ark of God. So David went and brought up the ark of God from the house of Obededom into the city of David with gladness.

When we leave God behind, it is not long before we miss God and the happiness of His presence & we do what we need to in order to get God back as our center.
Thanks for stopping by and thanks for
praying
,
Ken