Our new satellite television outreach, available to over 16 million DirecTV subscribers every Tuesday evening, is getting some viewers excited. Here's what a man from a Chicago suburb had to say this week;
I just finished watching . . . Answers Creation Hour, and I just wanted to let you know how wonderful it is to see this truth get into so many homes. I have friends who will not get together with me to watch Creation videos, but because these were broadcast on TV, they have already expressed an interest to see them.
Sometimes we have to meet people at the level they are willing to accept. The Lord is being glorified through this new mass media opportunity.
We agree! If you subscribe to DirecTV, why not invite a friend over this Tuesday (March 4) for our 9:00 PM showing? This week will be extra-special because it's the amazing
Created Cosmos
program from the
Creation Museum
planetarium (absolutely astounding!), followed by Dr. Jason Lisle's "Big Bang" lecture from the
Answers Academy
series. It'll be a feast for astronomy lovers!
(Answers Creation Hour is broadcasted every Tuesday night, 9:00–10:00 PM Eastern Standard Time on DirecTV channel 378. That's the NRB channel, which is standard in all DirecTV packages. See www.DirecTV.com for subscription info.)
CREATIONISTS CAN HAVE FUN TOO!
On the weekend, our family had the opportunity of attending the Ringling Brothers and Barnum and Bailey Circus (see photographs taken during the program). Because the main personality leading the Circus program (comedian and daredevil Bello) came to the Creation Museum with his Bible study group (various performers etc from the circus)—our kids and grandkids had a unique opportunity to meet performers backstage before the program—including Asia, the Asian elephant. (See photographs of Bello, our four grandkids, and me, and one of our grandkids feeding the elephant, as we had fun backstage.)
Asia also did a painting (using a paint brush) for part of the program—and they presented this painting to me! (See the photograph of Bello, me, and one of the clowns named Lance with the elephant painting.)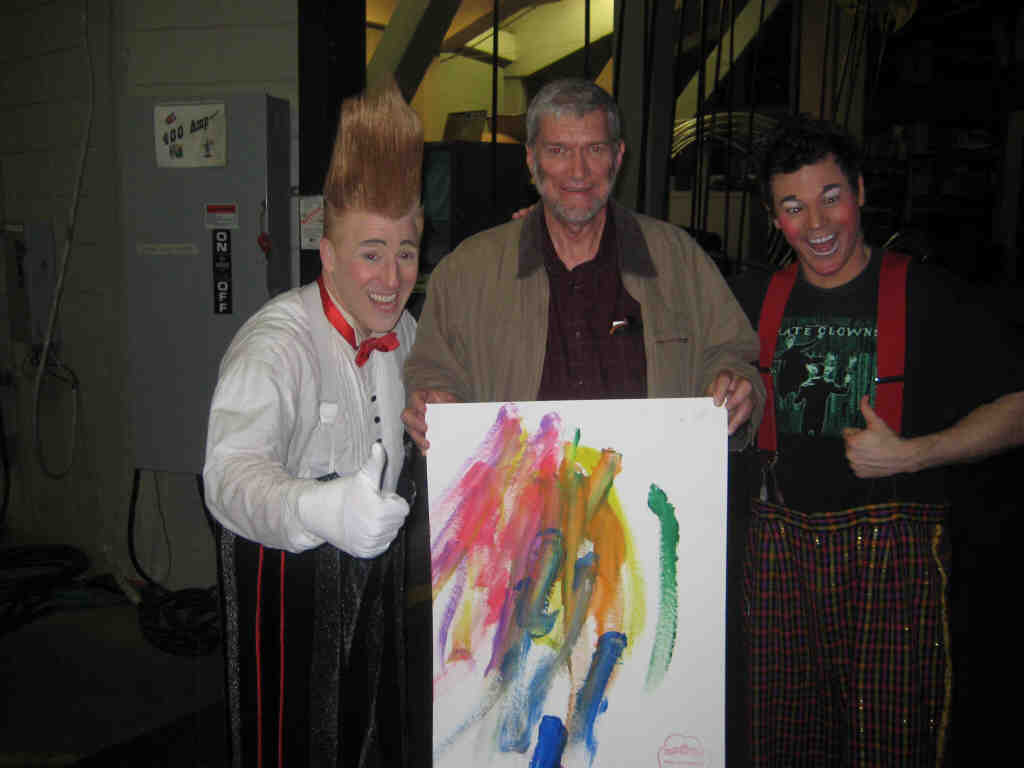 We also went backstage after the program—one of the performers who came to the Creation Museum said, "I know it is usually the other way around—but can I get MY photo taken with YOU!" He also told me he is subscribing to Answers magazine. Our Director of Advancement, Joe Boone, and his daughter Alli also met Bello on Friday night (see photograph).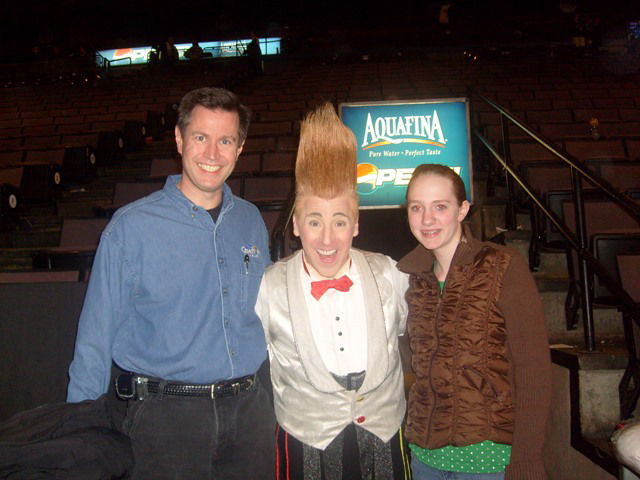 It was a fun weekend—but the exciting part to me was meeting Christians in what is called "The Greatest Show On Earth" who do not hide their faith, and actively witness to others—and now they will be using AiG resources (DVDs and books). Our family certainly has some unique adventures!
Thanks for stopping by and thanks for praying.
Ken