Editor's note: This article was adapted from a news release that was recently distributed to the media.
The apologetics ministry Answers in Genesis (AiG) was recognized for excellence last night at the annual National Religious Broadcasters (NRB) convention in Orlando with the prestigious Billy Graham Award for Excellence in Christian Communications. The award is one of the top commendations given by NRB.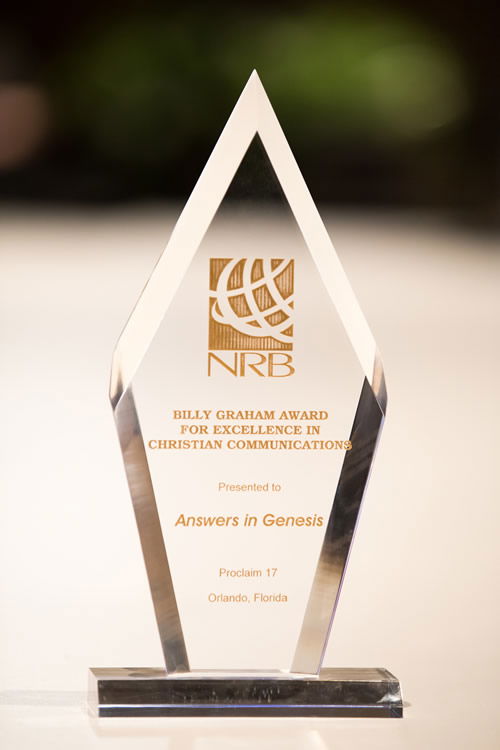 Named after the best-known evangelist and Christian media personality of our time, the Billy Graham Award goes to "a Christian organization that effectively and creatively uses multiple electronic media technologies in fulfillment of its mission, while maintaining fidelity to the message of love, redemption, and hope found in the Holy Scriptures." Past award winners include a "who's-who" in Christian media, such as Dr. Charles Stanley's In Touch Ministries.
"Answers in Genesis is blessed to have a dedicated and talented staff who have a passion to communicate scriptural truths starting with the Bible's very first verse," said Ken Ham, President and CEO of Answers in Genesis, Ark Encounter, and Creation Museum. Ham, who picked up the award for AiG last night, added,
In our modern era, our team is using the latest technologies to present biblical apologetics through a variety of media, and are doing so with excellence. As an evangelistic ministry with a global reach, AiG is thrilled to receive an award named after a man greatly respected worldwide for spreading the gospel.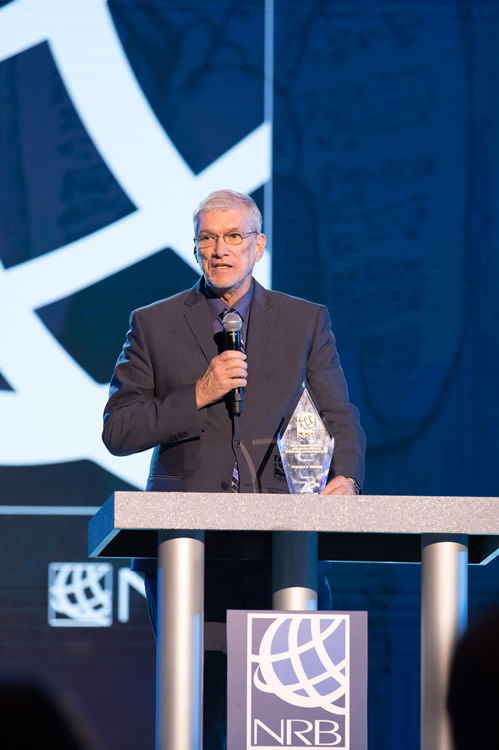 In congratulating AiG, NRB President and CEO Dr. Jerry A. Johnson said,
Like a light on a hill, Answers in Genesis has been a beacon for those looking for truth and those wanting to learn how to proclaim it and defend it. Like Billy Graham, Answers in Genesis has exemplified a commitment to excellence, creativity, and biblical fidelity. In doing so, the ministry has been effective in faithfully directing people to Jesus and to the Scriptures, even in the face of opposition.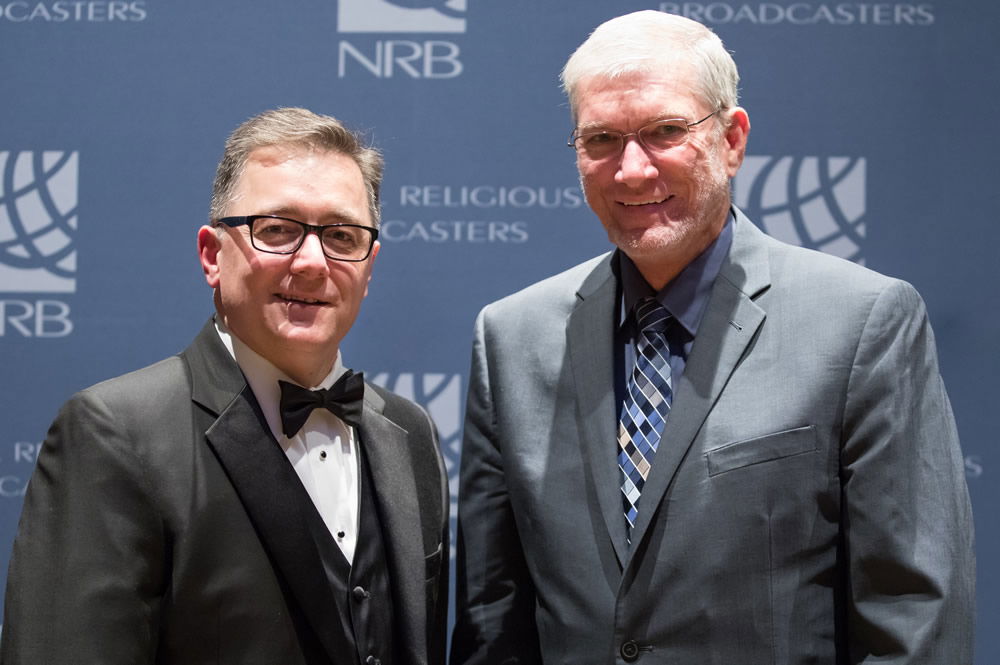 This year's NRB convention was held February 27–March 2 in Orlando. The NRB consists of over 1,200 member ministries from all over the world. AiG has two representatives on its board: Ken Ham, CEO; and Dale Mason, VP of Media. Its annual expo "connects, equips, and edifies" many thousands of Christian communicators.
NRB recognizes excellence and effectiveness in ministry through its annual Media Awards and Special Service Awards. Earlier in the day at a different ceremony, AiG picked up two other awards: Best Digital Experience and Most Innovative Digital Method.
AiG has been blessed with numerous radio and web recognitions in previous years.
AiG has been blessed with numerous radio and web recognitions in previous years. Twice the AiG website has won NRB's website of the year. The Billy Graham Award for Excellence in Christian Communications is a tremendous honor, acknowledging Answers in Genesis' work in affirming God's Word and spreading the gospel of Jesus through its many channels: radio, web, TV and video, social media, and other media and publishing outlets.
Answers in Genesis is an apologetics (i.e., Bible-defending) ministry based in Northern Kentucky, near Cincinnati. Its Creation Museum, located west of the Cincinnati Airport, has welcomed over 3 million visitors since opening in 2007 and has proved to be a major family attraction in the Midwest. AiG opened the Ark Encounter, a one-of-a-kind historically themed attraction, on July 7 in Williamstown, Kentucky, which drew more than 500,000 visitors through the fall of 2016. Built according to the biblical dimensions in Genesis 6, the massive Ark stands seven stories high and is 510 feet in length, making it the largest freestanding, timber-frame structure in the world. See more information at AnswersInGenesis.org.