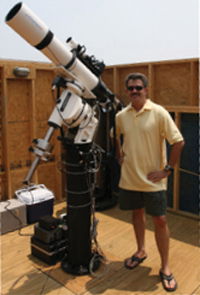 Having friends whose fathers worked on the Apollo space program further fueled his interest.
"I can still remember gazing into their little scope at a fuzzy object. That night had a big impact on me," Scott recalls the first time he viewed the heavens through a telescope.
He put that interest on hold as he pursued a career flying airplanes for the U.S. Navy. Ten years later, his passion was resurrected when he heard Ken Ham of Answers in Genesis speak about creation and astronomy. That event helped him reconcile what he had learned from the Bible with the universe he had studied in school. Scott realized that it is impossible to make long ages (history over millions of years) fit within the framework of the Bible.
Shortly after the event, his wife surprised him with his first telescope, a Meade ET-90. He was soon scanning the heavens. One aspect of his new-found hobby really caught his attention, astrophotography. Recognizing the potential to share the wonders of creation through images of the night sky, he was hooked. Desiring to help others find answers about astronomy, Scott now shares his stunning images and Scripture on his website, www.creatorsview.com.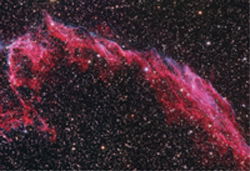 Scott has found other ways to declare the handiwork of God to believers and unbelievers. In addition to teaching about our young universe in Bible classes, he is also developing a devotional book that combines his photography and love for the Lord.
When not behind a telescope, Scott can be found flying airplanes as a commercial pilot. He loves nighttime, cross-country flights, which allow him to witness to other pilots as they observe the canvas of the Creator's hand.