PETERSBURG, KY, May 28, 2007 — Declaring the $27 million Answers in Genesis (AiG) Creation Museum a boon to the local economy, Judge Executive Gary W. Moore—the top elected official in Boone County, Kentucky—welcomed the facility to his county and expressed appreciation to its creators for choosing northern Kentucky at a special dedication ceremony for more than 600 invited guests, nearly 300 employees, and representatives of the international media on Saturday, May 26.

"Thank you for deciding to select Boone County and northern Kentucky for the site for this fantastic facility," Judge Moore said. "What this means to our area in the terms of tourism, the amount of room nights sold by our hotels, the amount of restaurant business brought here—the economic impact of this facility being here is amazing."
Judge Moore said he also appreciated the message of the values that will be underscored by the museum's presence in the area. "Thank you for the impact it will make in our community from the standpoint of belief, from the conservative values point of view. We know that the message that you will promote and teach here is a message that our world needs to hear today," he added.
George Ward, secretary of commerce for the Commonwealth of Kentucky who represented Governor Ernie Fletcher, echoed Moore's sense of appreciation for the economic impact to the area. "On the tourism side, it's going to be a great complement to what we have at Big Bone Lick State Park," he said. "I envisioned when I was here (nearly a year ago) that every Christian school … is going to have a field trip to the Creation Museum, and we're really happy to have those visitors."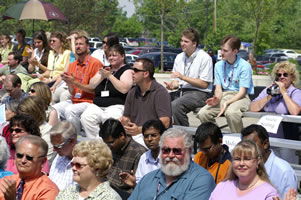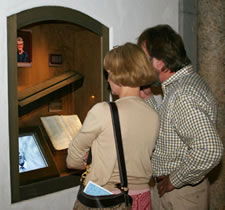 The dedication ceremony was preceded by a news conference led by Answers in Genesis President and CEO Ken Ham, the museum hosted a special dedication ceremony for more than 600 invited guests and nearly 300 employees, followed by the official ribbon cutting and opening of the facility. More than 9,000 visitors, including charter members and their families, had already toured the museum during the week prior to the official opening.
Ham thanked donors and supporters in attendance, and reiterated the mission of the Creation Museum. "What we've done here is give people information that is not readily available, information to at least help challenge people how to think, and challenge them that you can believe the Bible's history. And if its history is true, then its message of the Gospel is true," he said.
The museum, located in Petersburg, Kentucky and just west of the Cincinnati Airport, opened to the public on Memorial Day. More information is at www.creationmuseum.org or by calling (888) 582-4253.
Answers in Genesis is a biblical apologetics ministry which conducts more than 300 teaching meetings each year, hosts an award-winning web site, and produces the "Answers" radio program heard on more than 860 stations throughout the United States.