The Dragon Hall Bookstore at the Creation Museum is filled with DVDs, toys, apparel, and other exciting (and eclectic) items—like cricket suckers, fossilized dinosaur poop, and freeze-dried astronaut ice cream. However, it is primarily a bookstore.
You probably know quite a few book lovers. What better gift to give the book lovers in your life than these resources from our bookstore?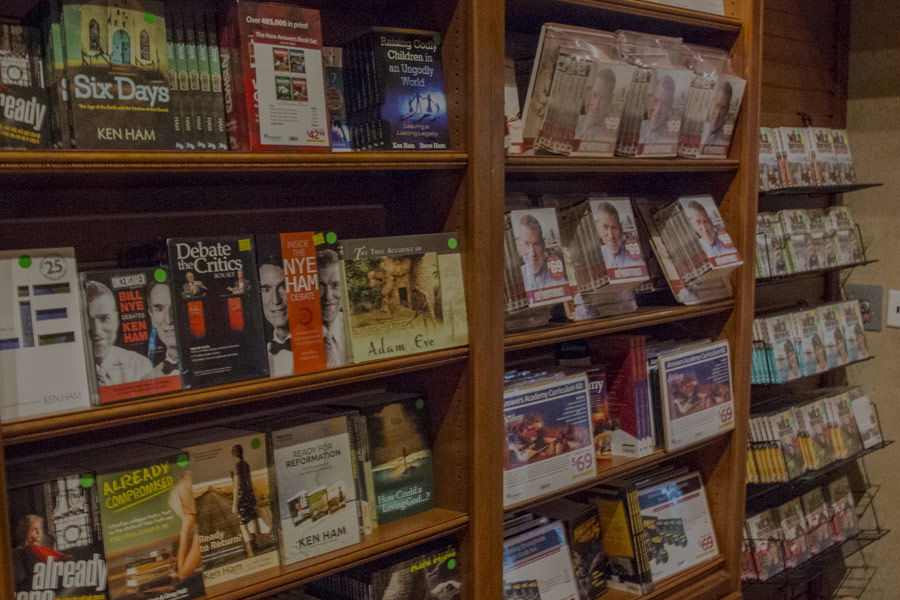 When you come to the Creation Museum to enjoy the festivities at our Christmas Town, you'll have access to shelves of books (and other items) to get all of your Christmas shopping done. And the good news is that if you can't make it to the museum's bookstore, you can buy most of our books at our online bookstore.
Check out these suggestions for the different kinds of readers in your life.
The curious reader. Curiosity is a trait we like to encourage here at AiG since there is so much to learn about our Creator God and His magnificent creation. For the reader who wants to learn about science and nature, we offer books such as The Created Cosmos by AiG's astronomer Dr. Danny Faulkner and The New Answer Books. For those interested in history, we have The Genius of Ancient Man by Don Landis and Hitler and the Nazi Darwinian Worldview by Dr. Jerry Bergman.
The imaginative reader. There seems to be a lack of quality Christian fiction on the market today, but we have several great choices in our online store. We have The Truth Chronicles for teens, Dinah Harris series for mystery lovers, and the new novel Noah: Man of Destiny by AiG's Tim Chaffey and K. Marie Adams, for those who would like to learn a backstory behind this great man of faith. Treat someone to a great story built on faith-building truths.
The picture lover. Some book lovers don't like to read books as much as they like to look at them. Our store offers several books that are perfect for setting on the coffee table or an office waiting area. Gardens at the Creation Museum features colorful photos of our beautifully themed gardens, bridges, waterfalls, and lake. Galápagos Islands: A Different View, by Dr. Georgia Purdom, takes you on a full-color tour and discusses the history and science of these fascinating islands. See behind-the-scenes photos of the largest timber-frame structure in the world in The Building of the Ark Encounter. Also check out The True Account of Adam and Eve and The True Story of Noah's Ark, two beautifully illustrated books giving foundational accounts from Genesis.
The fast reader. We all know busy people who want to be informed about biblical and scientific topics but need the information in condensed form. Our pocket guides are the perfect solution. These 19 pocket guides (each under 100 pages) cover topics from UFOs and atheism to the human body and global warming. Another excellent resource for on-the-go people is Answers magazine. And with an e-subscription, busy readers can take these informative, engaging articles anywhere to stay up-to-date on science and current events from a biblical worldview.
The young reader. Children love to look at books and listen to stories (which is why we have the Dino-mite Readers program at the Creation Museum.) Our online store offers colorful and fun book options, such as The Answers Books for Kids; the rhyming books written by AiG's president and CEO, Ken Ham, and his wife Mally; and I Really, Really, Really Like Fossils by Ruth Carter (our volunteer coordinator here at the museum). You can also order a variety of our books in the Kids Answers Library pack.
At our online store, you can explore these and hundreds of other book options for the readers in your life. And don't forget to browse our other resources such as DVDs, CDs, and other faith-building options. Make AiG's bookstore your one-stop shop for Christmas presents.