A large, attractive sign can now be seen by thousands of drivers each day as they drive past the beautiful 47-acre property that will be the home to AiG's Creation Museum and headquarters west of the Cincinnati Airport (see photos below).
The prominent sign was put up just before AiG's June 17 land dedication ceremony. As the illustration on the photo reveals, dinosaurs will be a major theme of the Creation Museum and Family Discovery Center. Over 60 dinosaur models—wonderfully hand sculpted by AiG's Buddy Davis—are awaiting placement in the 50,000-square-foot museum complex (the AiG headquarters and distribution center will take up an additional 45,000 square feet).
Many AiG friends outside the United States have told us that they intend to travel to the Cincinnati/Northern Kentucky area and be a part of grand-opening festivities when the first phase of the museum is open (the summer of 2002).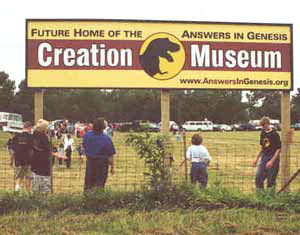 AiG is looking for additional construction-related businesses and individuals to join the building team. To date, a civil engineer has come forward to donate all of his time to the project, and the renowned architectural firm of A.M. Kinney Associates will be the lead architect (other architects will be needed as well), and this prestigious firm will donate a significant portion of its services to AiG.
For more details on the Creation Museum and Family Discovery Center, which will be a visual "walk through history" of the world starting from the Bible's very first verse, see our museum page.