It's the first of its kind in our 15-year history: Answers in Genesis and Creation Research Japan (CRJ) have signed an agreement that allows CRJ not only to translate our creation/gospel materials into Japanese, but also to print AiG books and duplicate DVDs inside Japan. The "delivery" part is what makes this agreement different than what we've done in the past with our outreaches to Japan.
The new relationship with CRJ will be a great means to get Bible-affirming resources more quickly and inexpensively into a spiritually dark nation that desperately needs the gospel. This is because we will no longer have to produce the Japanese-language materials in the U.S. and then ship them all the way across the Pacific. Having a Japanese-based cooperative outreach like this will save multiple thousands of dollars each year in shipping costs and will also get the resources completed and distributed more quickly.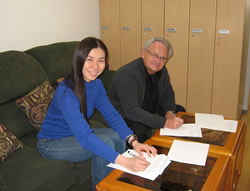 Michiko Mizumura of CRJ met with Dr. David R. Crandall, director of AiG's International Outreach missionary arm to sign this historic document in Japan. CRJ (which has had many of its leaders and members travel to America to meet with us and tour the Creation Museum) and Answers in Genesis are now what could be called "sister ministries." We share the same biblical approach to Genesis chapters 1–11 and hold the same respect for the authority and accuracy of the Word of God.
We are also pleased to report that Answers International is working on similar agreements with Christian leaders in Peru and South Korea. Please pray for those to blossom as well, and that the wider distribution of creation/gospel resources in Japan will be blessed by God.
To further assist the CRJ in its creation evangelism efforts in the Land of the Rising Sun, Ken Ham, AiG president, will travel to Japan in August to have his basic Genesis talks filmed and eventually translated into Japanese. Previously, Ken has travelled to Mexico, Saipan, and India for similar filming sessions for DVD translations into Spanish, Chinese, and Hindi (plus Telegu) respectively.
Ken said the following about his return visit to Japan and the DVDs that will eventually be produced from it: "Not only is it important for the people of Japan to have creation-apologetics material in their own language, but it is a thrill to work with Japanese Christians who have dedicated themselves to reaching their own countrymen with the creation/gospel message."
Ken added, "AiG's philosophy is to provide resources to equip Christian leaders around the world so that they can reach their own culture. We believe that using these 'nationals' to speak and write on Genesis is one of the most effective ways to reach their countries with the vital message of biblical authority and the gospel."
Please consider supporting the Japanese DVD outreach with your gift (mention Japanese DVD outreach in the comments).