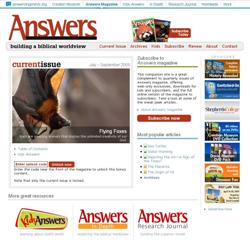 Over the past three years, Answers magazine has grown to become the most-read creation/worldview magazine in the world. During that time, the complementary AnswersMagazine.com website has been a great place to learn more about the articles you find in Answers, to review the magazine archives, to find subscriber exclusives, and to watch amazing videos. Although it has been an excellent resource, we wanted to provide more. So, today, we're unveiling the new AM 2.0, a complete redesign of the AnswersMagazine.com site.
All of the features you've come to expect are still in place, from our featured articles to our kids content, but we've also been busy making some changes that we think you'll like.
Completely new look: Every element of the site has been changed from the ground up. We've applied a clean color palette that makes online reading less taxing and brings the great look of the print magazine to the web.
Enhanced content pages: You said you wanted to be able to find specific articles more quickly, and we listened. The new magazine content pages sort articles by "departments" so that you can easily locate and share information with friends and family.
Easier navigation: Want to see what articles were in our first issue? The new archive feature makes flipping through the back issues nearly as simple as flipping through the print versions. In addition, just like in the print version, you can now move to the next article or go back to the previous one with one click.
Format choice: The new version of the site allows you to choose whether you would like to see the article in HTML (easier for online viewing) or PDF (better for printing). As of right now, the PDFs are only available for the most recent issue, but we'll be adding the rest as quickly as we can.
Most popular past articles: Have you ever wondered what articles others are interested in? Now you can see for yourself. The new front page of AM 2.0 gives you a little glimpse into our most popular past articles. Keep an eye out for other interactive elements coming soon.
Bookmarking: If you have an account with a social bookmarking service or on a social networking site (or three of each), the new AM 2.0 site allows you to quickly bookmark, tag, or list your favorite articles wherever you would like. Think of it as a way to share God's truth through the power of the Internet.
One thing that hasn't changed about the Answers magazine site, however, is our commitment to providing excellent, God-honoring articles that you and your whole family can enjoy. In fact, you won't want to miss what's in store for the next issue.
After you visit the new site and look around, please be sure to let us know what you think, since your comments are vital in helping us improve the site. We hope you enjoy the new AM 2.0.
—Answers Magazine Staff and AiG Web Team