Global Warming: Fact or Fiction?
It's one of the most widely discussed and—not surprisingly—therefore one of the most controversial issues of our time: global warming. Is it happening? How long has it happened? Is it our fault? Should we care? What should we do?
Aware that Christians, too, are seeking answers to these important questions, and recognizing that the global warming debate resembles the creation/evolution debate in many ways, Answers in Genesis has prepared several resources (including a special DVD and a special edition of Answers magazine this fall—see this week's sneak peek from the issue!) to educate Bible-believing Christians about the topic.
To start learning the reality of global warming—and what it means for the Bible-believing Christian—visit "Global Warming: Fact or Fiction?"
Feature of the Month
Rather than taking a look at an existing feature on our site this month, we thought we'd take the time to alert you to an upcoming miniseries feature we're sure you'll enjoy—and learn a lot from. Headed up by Bodie Hodge, author of numerous feedback articles, we're putting together a series answering alleged biblical contradictions—"alleged" being the operative word!
Although the end goal of this project is a book, we'll be posting a series of the short chapters online starting this month. Don't miss them!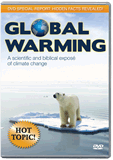 What's in Store for this Month?
As linked to above, one of the hottest new items in our store is the DVD Global Warming: A Scientific and Biblical Expose of Climate Change. Co-produced by Answers in Genesis and the late D. James Kennedy's Coral Ridge Ministries, the 48-minute-long video is an exciting and important tool for all who face the rampant misinformation propagated by ecological alarmists. Global Warming addresses subjects that most others won't touch, including misinformation in Al Gore's An Inconvenient Truth.
You'll find out whether global warming is real, what its causes are, and more while hearing from scientists including Jason Lisle, Michael Oard, and Larry Vardiman.
So why wait? Watch the video online now!
Question of the Month
B.F. in Richfield, Wisconsin, writes:
On your [museum] home page I could not readily find the location of the museum. It gives prices, times, exhibits but does not answer the question, where?
Thanks for your question! We're sorry you couldn't find the museum location. We tried to group all the visit-related information—from prices to lodging to dining—under the "plan your visit" menu of the Creation Museum site. One of the links in the menu is "Maps & Directions," which will take you straight to our directions page. From there, you can obtain detailed directions to the museum from all directions and even link to a Google Map showing the location of the museum and local lodging.
We hope that helps! Stay tuned for next month's question, or ask one of your own!
Did You Know?
Did you know that in the past year, the Answers in Genesis website has received nearly 9 million visits totaling more than 28 million pageviews? Just as important is that more than half of those visits—51.95%, to be exact—are from first-time visitors. Many of these, no doubt, are skeptics who may be reading about the Bible's trustworthiness, or seeing the gospel presented, for the very first time. We thank God for that opportunity!
About InSite