Get Equipped for Summer Vacation!
For many of our readers—those who live in the Northern Hemisphere—summer is upon us, and what does that mean? Summer vacation! We know families are busy planning and finalizing details for those big summer trips, and we thought we'd do something to help out: offer our national park guides free! These guides offer detailed information from a young-earth perspective, so if you're headed to one of these national parks this summer, you don't have to worry about not having just the right response to the millions-of-years indoctrination on all the official information.
So get equipped for summer vacation (or any trip to these destinations) with our help! Our guides cover seven destinations in the US, two in the UK, and one in Australia (though we know it's getting cooler now Down Under). Even if you won't be visiting any of those specific destinations, the insights in each may help you give the creationist interpretation to other natural history sites you and your family might be visiting.
For now, each is downloadable as a PDF, but we'll be posting easy-to-read HTML over the next couple months as our summer book series (with a new installment each Thursday). And, of course, you can buy hard copies from the Answers Bookstore.
What are you waiting for? Get equipped for summer vacation!
Feature of the Month
This month we're once again returning to the education section to point out one of the absolute best features on the Answers in Genesis website: the free PowerPoint slide section. For anyone interested in free content for presentations on creation/evolution and biblical authority, be sure to visit this section! We take a closer look at how to use it below, when we answer a reader who's looking for a specific slide.
What's in Store for this Month?
It's been launched without a lot of hullabaloo, but let nobody say we're not excited about AiG's newest product, the New Answers Book 2, successor to the hugely popular New Answers Book. If you're familiar with Answers in Genesis, there's a good chance you've heard of, read, or perhaps even own the Answers Book or the landmark New Answers Book, which was released in 2006. (By the way, you can read the New Answers Book—in its entirety—for free right on our website.)
The New Answers Book 2 isn't a replacement, though; it's a companion to the New Answers Book, going deeper and answering 31 more top-asked questions, such as: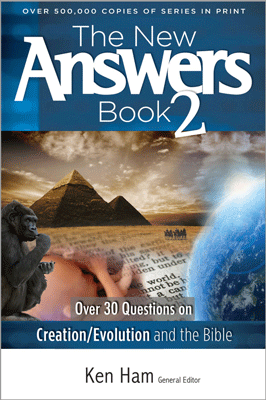 What's Wrong with Progressive Creation?
Are Biblical Creationists Divisive?
Are There Gaps in the Genesis Genealogies?
Doesn't Egyptian Chronology Prove that the Bible Is Unreliable?
What about Satan and the Origin of Evil?
Isn't the Bible Full of Contradictions?
If you're interested in creation and biblical authority, you'll no doubt be interested in the New Answers Book 2 (there's a sample chapter available by following that link, too; look for the "Samples" sidebar on the right of the page!)
Question of the Month
Reader J.B. from New York writes to ask us:
I am looking for a poster that was made I think by Ken Ham. It shows an evolution castle and a Creation Castle shooting cannons at each other. I was wondering where I could get one. Our church is teaching Creation in Sunday School. We have one poster but we would love another.
Thanks, J.B., for sending us your question. Many of our slides are posted online so that you or anyone else can download them for use in your own presentations on creation and biblical authority.
First, using the main navigation bar at the top of our site, navigate to Education > PowerPoint (which takes you to Illustration Table of Contents). On this page, you'll find nine full-length PowerPoint presentations for free download, several background images for making your own presentations, and nearly 250 illustrations for use in your presentations.
If you're hunting for a specific illustration, it will probably be helpful to follow the "Click here to view thumbnails" link at the top of the Graphics & Illustrations section. This results in a list of presentation slides with thumbnails of each one.
In J.B.'s case, we are looking for the famous evolution and creation castles slide, which has been used in AiG presentations for years. Just scroll through the list of thumbnails, and—there we are!—slides 6, 7, and 121 are the basic castle diagram. Of course, if you have an idea what the illustration may be called, you could do a text search of the page (in this case searching for "castle") and find them that way, too. Click on the links to download them, then get busy using them in creation- and Bible-upholding presentations!
Stay tuned for next month's question, or ask one of your own!
Did You Know?
Did you know that Answers in Genesis has more than one website? The fact that you're here shows that you probably know about our main website, www.answersingenesis.org. But we maintain an entire family of websites that cover various products, demographics, and services offered by Answers in Genesis. To see an annotated list of our various sites (with screenshots), visit The Answers in Genesis Family of Websites.
About InSite