The local newspaper for Grant County, the county where AiG's Ark Encounter is located, was intrigued to know that another well-known person had toured the life-size Ark. The Grant County News asked us about famed rock-and-roll singer and TV celebrity Ozzy Osbourne, whose visit at the Ark was featured on the A&E television channel late last month.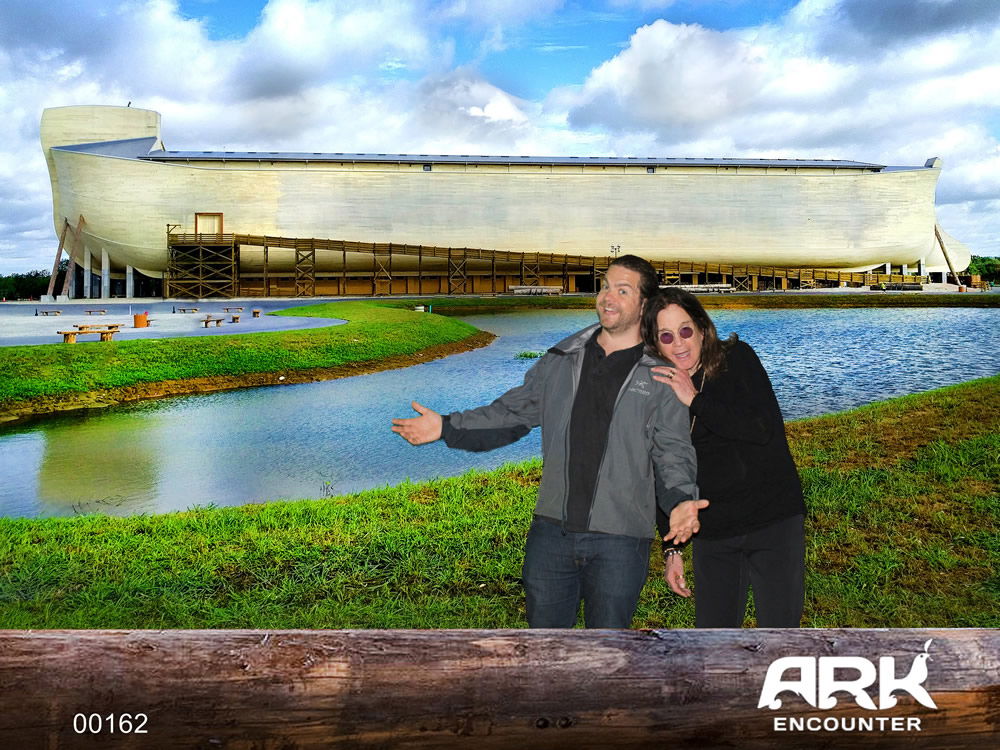 Here is what Mark Looy of our staff shared with the Grant County News about the Osbourne visit. Excerpts of his comments were used in the paper's December 7 issue.
How did the visit by the Osbournes come about?

The A&E Channel is airing Ozzy and Jack's World Detour, featuring rock-and-roll legend Ozzy Osbourne and his son, Jack, as they travel the world and attempt to re-connect as father and son. They have visited places like Stonehenge in England, the Alamo in Texas, and Mt. Rushmore in South Dakota. Earlier this year, their producers inquired about filming at the Ark, and we gave our OK, especially since we were assured that the segment would not turn into a hit piece. Ozzy and Jack visited the Ark with their film crew in April, and the segment aired nationwide on A&E November 29.

Any hesitation about having Ozzy visit?

No, not really. We were quite happy to welcome father and son, with film crew in tow, to walk through the Ark. Just as with all Ark guests, we wanted them to be exposed to our Bible-based teachings, including the gospel message. Now, because of his wild reputation and frequent use of profanity, we did urge viewer discretion when we announced that the Ark segment with the Osbournes was going to be aired.

What was their reaction to the Ark Encounter and how was their interaction with your staff?

Ozzy and Jack paid some very nice compliments about the massive ship. On the TV program that aired, you can hear them saying things like, "Wow, wow, VERY wow." And "that is insanely big." Plus, "absolutely unbelievable."

As they walked in and around the Ark, the Osbournes were very polite in their interactions with our staff. Our employees, though, did not seek a lot of contact with them for they did not want to get in the way of their cameras.

Now, that the program has aired, what are your thoughts?

We had no idea what the final product would look like. But even though there were some cringe-worthy moments in the final piece, we were happy to have welcomed father and son and exposed them to the gospel. Of course, we were excited about the national TV exposure the Ark received.

Have there been other well-known people who have visited the Ark?

We've been pleased to welcome many intriguing people at the Ark. That list includes astronaut Barry Wilmore, a space shuttle pilot and commander of the International Space Station. While this astronaut is a Christian who accepts the Book of Genesis, we have greeted many well-known people who do not believe in Genesis. They range from former President Jimmy Carter, a Christian who does not accept the historicity of Genesis, to evolutionist and secularist Bill Nye "the Science Guy." We have also had hard-core atheists visit, and we are happy to welcome them. After all, where else might they be exposed to teachings that show the Bible can be trusted?

Our Ark Encounter and Creation Museum are all about proclaiming the vital message that the Bible is true from the very first verse.

Indeed, we urge atheists, even those who are the most hostile toward Christianity, and people of all other faiths, to visit our attractions, for our Ark Encounter and Creation Museum are all about proclaiming the vital message that the Bible is true from the very first verse.

What's new at the Ark Encounter?

We are now in year two. We predict that since last year was not a "typical" year (for example, we did not see many motor coach bus tours, which have now exploded), 2017–2018 will exceed our excellent first-year figure, which was over one million guests. This past summer, motor coach tours dramatically increased from last year.

In fact, in less than three months of the Ark's second year of operation, the Ark reached the 325,000-attendance mark even quicker than our first year. That number of 325,000 is significant because a state-ordered study conducted a few years ago estimated that only 325,000 people would tour the Ark Encounter in the first year if it contained creation/evolution teaching, which of course it does. By the end of September 2016 and less than three months after we opened, the Ark Encounter had already surpassed the puzzlingly low number that was supposed to take one year to reach according to the state study.

By July, we'll open a 2,500-seat, multi-purpose auditorium located near the shuttle-bus drop-off, so we can host lectures, live animal shows, concerts, conferences, and other events. Also, we are expanding the Ararat Ridge Zoo behind the Ark to showcase even more animals. This month, at our special ChristmasTime at the Ark event, we're thrilled to premiere a spectacular video projection show, using the exterior of the Ark as a 510-foot-long screen, five stories high, for a free animated program, "Encounter the Wonder," that started December 8. For just the cost of parking, guests can walk around the Ark, tour the zoo, see tens of thousands of beautiful lights, shop in our stores, and grab a bite to eat. It's a great opportunity to visit the Ark. There is a fee to go inside the Ark and to take any rides on the grounds. Of course, our free annual ChristmasTown at the Creation Museum, 45 minutes away, is a second attraction people can enjoy in Northern Kentucky this Christmas.

We're happy to report that 2018 is shaping up to be another excellent year at the Ark, especially with the growth of motor coach tours bringing people here from all over the country. About 95% of our visitors are coming from outside Kentucky, Ohio, and Indiana. As a result, many new hotels are under construction in Grant County and Boone County to accommodate Ark Encounter and Creation Museum visitors. From Georgetown, Kentucky, to Cincinnati, Ohio, businesses catering to tourists are thrilled with the Ark's success and are greatly benefiting from it.

Indeed, these are exciting times at the Ark Encounter.