Zipping through space to far-off galaxies . . . trekking on the moon . . . probing for new planets. What child hasn't dreamed of exploring outer space? Now, children ages 2–12 can blast off on a galactic adventure like no other. Answers in Genesis's new 2009 Vacation Bible School program, Operation Space: A Close Encounter with God's Word, is fueled and ready for takeoff.
In this five-day program, children don their "biblical glasses" to view how God reveals Himself to us through His world and His Word. Throughout the week, cadets go through B.A.S.I.C. training as they learn about the Book of Books, its Absolute Authority, its Salvation Story, and its Incredible Impact. Then they receive the all-important Cadet Challenge on the closing day. As they crisscross the cosmos, children learn more about their great Creator. Along the way, they learn answers to some of the most challenging questions ever asked about space and the Bible. Are aliens out there? How did the universe begin? Was earth specially designed? Will we ever find life on other planets?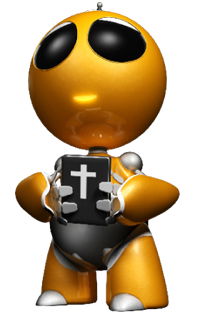 Available just one year after the launch of AiG's successful VBS program, Amazon Expedition: The Ultimate Trek Through Time, this easily adaptable resource offers everything a church needs for a safe and fun adventure. Learn about opening and closing assemblies, Bible lessons, and easy-to-use suggestions for stellar snacks, galactic games, and cosmic crafts.
An extremely thorough Director's Guide provides scripts for a week-long skit that keeps kids coming back every day. The guide is also loaded with promotional helps, exciting kid-friendly songs, and follow-up materials that encourage young cadets to keep digging into God's Word.
If you're looking for a VBS program that provides Bible-based answers to the questions kids have about their universe, then Operation Space (Apologetics 101 for kids!) is for you. Training the next generation is a daunting task, for which parents and teachers must be thoroughly equipped. With Operation Space, you can rest assured that your cadets are getting the best biblical and scientific training to prepare them for life's real adventures.
This new VBS promises to be an out-of-this-world experience, so hold onto your seats as we fire the engines and prepare for launch!
Visit AnswersVBS.com for detailed information plus video highlights and samples of this new VBS.