Many of you have been wondering how things are progressing with the launch of AiG–Canada. I felt a brief update on some of the exciting developments would be fitting for our first newsletter to you, our Canadian supporter!
Events (Conferences, Churches, Christian Schools, Homeschools)
Even though our outreach department has not yet been fully established, AiG–Canada already has had several inquiries for speaking ministry. These requests for speakers have resulted in a total of 10 events —that are listed below (2 already completed)—being placed on the calendar (as of the time of this writing). Many other speaking possibilities are also in process!
2018 Canadian Events
April 6 – 7:30 p.m.
Bethel United Reformed Church
Aylmer, ON
Calvin Smith
April 12–14
AHEA Conference
Red Deer, AB
Ken Ham, Calvin Smith
April 15 – 10:30 a.m.
Kentwood Alliance Church
Red Deer, AB
Ken Ham
April 15 – 6:00 p.m.
Meadowlands Baptist Church
Edmonton, ON
Ken Ham
April 15 – 11:00 a.m.
Zion Evangelical Missionary Church
New Sarepta, AB
Calvin Smith
May 20
Morningstar Christian Fellowshipbr /> Scarborough, ON
Ken Ham
May 20–21
Canada Christian College
Toronto, ON
Ken Ham, Calvin Smith
July 23–28
CSSI Creation Family Camp
Fort Qu'Appelle, SK
Calvin Smith
August 4–6
Pastor's Conference
Mohawk College
Hamilton, ON
Calvin Smith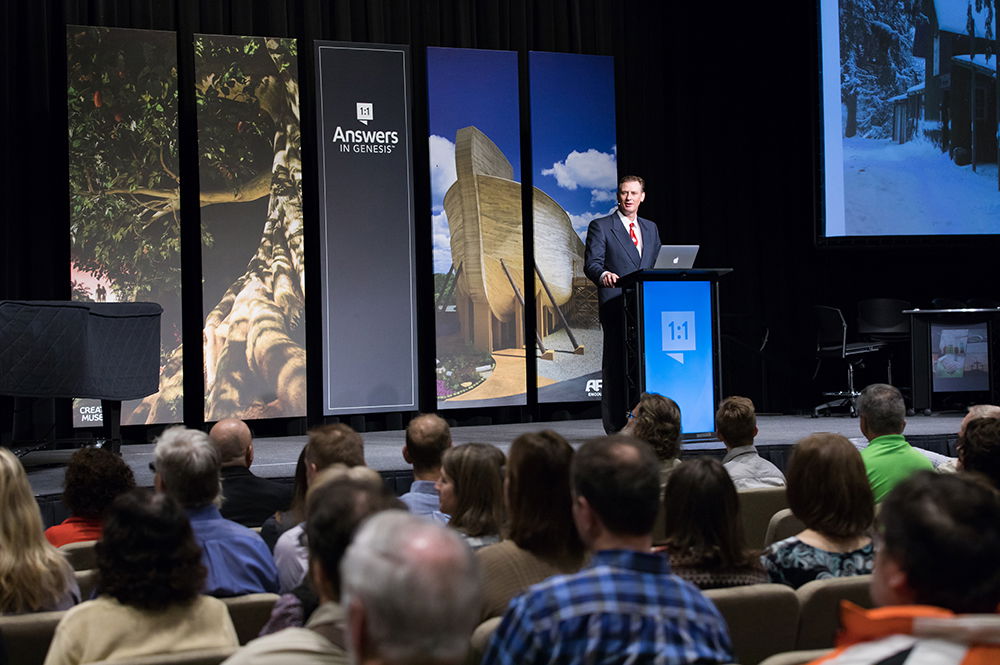 For Youth: Answers Boot Camps
Weeklong summer youth camps in various parts of Canada have already been scheduled. But we would like to do more—and we need your help. If you have a passion for youth ministry and would like to help organize an Answers Boot Camp in your area, we would love to partner with you. Contact us and we will send you information so we can reach this generation and the next one.
Attend a Vision-Casting Event
Want to know more about AiG–Canada's launch and help spread the vision for the ministry in Canada? In addition to doing "creation" presentations at churches, we continue to hold vision-casting events, where we explain the vision for AiG–Canada. This vision includes special initiatives, new strategies, and goals for the future. These short events include desserts and other refreshments, with a Q&A afterward.
To inquire about arranging an AiG–Canada event, please fill out this form.
Online Bookstore/Resources
Other people have asked when they we be able to order AiG resources (including Answers magazine at a reduced cost) in Canada and avoid the shipping costs associated with border fees. Also, people are inquiring about our excellent curricula: the Answers Bible Curriculum for Sunday schools (for all ages) and small groups, and our popular Vacation Bible School programs.
Please be patient with us. We will let you know when our Canadian online bookstore will be up and ready to process orders. Our own website will allow us to communicate details regarding events, resource promotions, tours to the Creation Museum and Ark Encounter, and all manner of other things.
Bus Tours to the Creation Museum and Ark Encounter!
We are planning bus tours to the Creation Museum and Ark Encounter for summer 2018. Operated by AiG–US, these two popular attractions in Northern Kentucky near Cincinnati are only a four-hour drive from the border with Detroit. Many people have already expressed excitement about joining us.
As part of the tour package, we will be offering special pricing incentives and giveaways! I will be travelling down with the group to get to know everyone. If you as an individual or church group would like to inquire about coming with us, use this form to send us a message for information regarding dates, costs, and so on.
Staff and Volunteers
As a start-up ministry, we have been blessed with many people volunteering and helping in many ways. To enable us to function properly, we are bringing on a new full-time staff person in the role of Outreach Coordinator.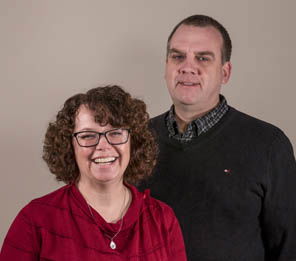 Tina Henwood comes to us with 10 years of experience working as an event coordinator in a ministry setting. She has managed all aspects of meetings from single events to large multi-day, multi-speaker conferences.
Tina will be your main point of contact for booking speaking engagements, planning conferences, and planning all of the unseen but critical travel and itinerary matters to ensure your Bible-upholding event is a success.
When Tina isn't organizing AiG events, she enjoys cooking, spending time with her family, and taking scenic motorcycle rides along the back roads of Ontario.
We also have many volunteers who are helping in various ways as we begin this new ministry. If you would like to volunteer in some capacity, even if you don't live in Ontario, please let us know.
We will be bringing on other staff as our needs grow and as God blesses.
Team Building Trip!
It has been a fantastic time for the AiG–Canada ministry as our volunteer team has just returned from several days of training with the AiG–US staff to help us get ready for our official launch later on this year!
In addition, I spoke at the Thursday morning AiG–US staff meeting and prayer time, introduced our 10-person team, and gave a devotional as well.
I also spoke to the audience in AiG's Legacy Hall the following day and the whole team capped off the experience with a trip to the Ark Encounter. Please continue to pray for our staff and volunteers as the Lord brings such a diverse and talented group of people together to help us grow.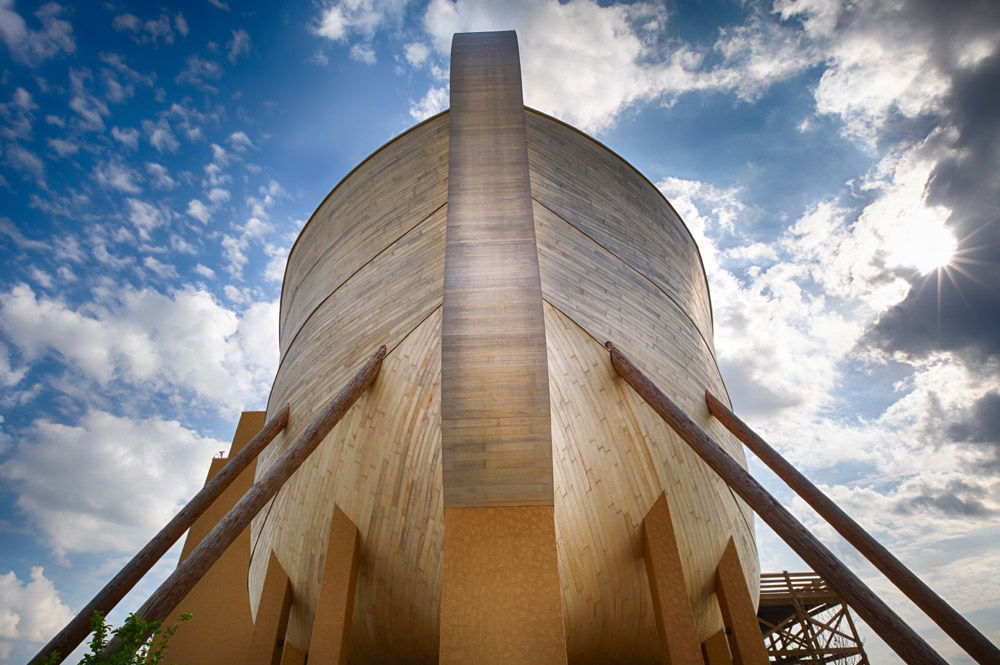 ---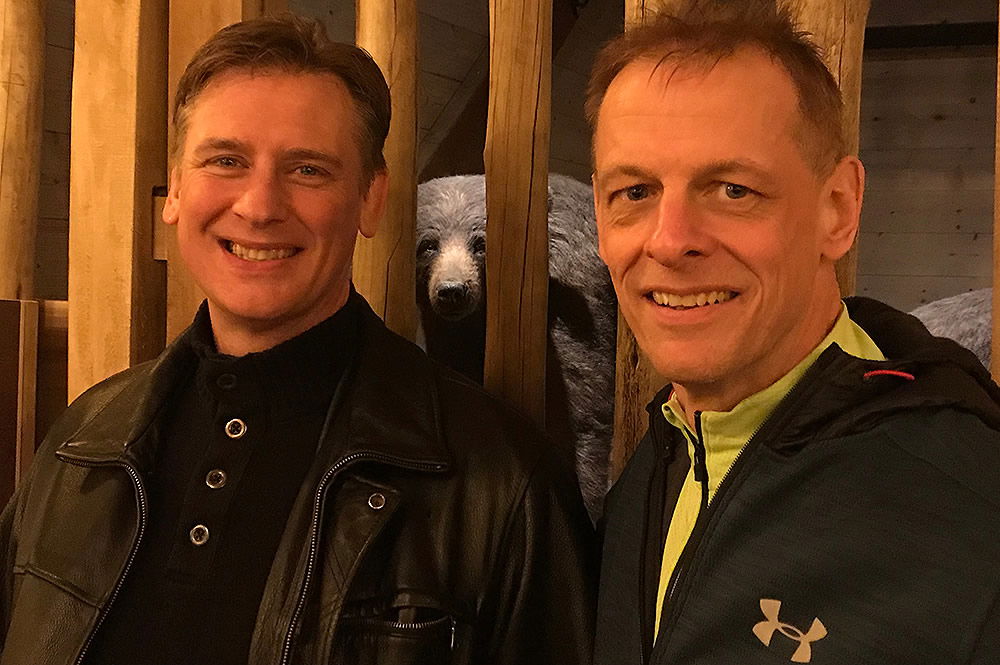 Matching Gift Campaign Making an Impact!
As previously shared with you, AiG–Canada has been blessed by a generous supporter who has provided a matching gift challenge, which will match every gift made to the ministry, dollar-for-dollar, up to $100,000!
I'm pleased to share with you that as of early March, we have already raised $38,000 toward meeting that challenge, which has been extended through June 30. Please prayerfully consider a gift today that will be matched by this generous offer (essentially doubling your gift!) and help launch the AiG–Canada ministry. Your gift will help reach more Canadians with the truth of God's Word and its life-changing gospel message!
Cheques can be sent to:
Answers in Genesis Canada
PO Box 25063
West Brantford RPO
Brantford ON
N3T 6K5
Or you can make a donation by E-Transfer by contacting us using this form.
For more information regarding all aspects of the ministry, please visit our Facebook page for more updates. You can find us at Facebook.com/AnswersCanada.