Reserved and old-fashioned. These words may pop into your head whenever you hear the word Amish. But then why are the Amish taking a lead role in building the full-size Ark at the Ark Encounter? Skilled craftsmen, hard workers, and people who love Jesus Christ are more fitting descriptions of these easy-going but intensely religious people.
Putting together the timber frame of the Ark—the largest timber-frame building on the planet, makes perfect sense for such experienced wood builders.
"If you are a builder, then it's in your genes to create and build," says northern Indiana contractor Orie Lehman, who, with his brother, Ernest, oversees timber frame erection for the project. "But it extends beyond that. We wouldn't really want to build a casino, but this reflects our values, promoting biblical authenticity. It's a big challenge."

Each Monday, Ernest, Orie, and their crews travel from their homes in four different states to the construction site in Williamstown, Kentucky, with employees who drive for them. On Fridays the drivers take them home again.
Ernest and Orie were chosen because they helped build the 51,000-square-foot, three-story timber-framed farmer's market near Elkhart, Indiana. Moving and placing the massive beams for these huge structures requires power equipment, something not usually associated with the Amish. But contrary to popular belief, many Amish do own and use power tools. Orie estimates that 80 percent of Amish fit into that category, "but we don't usually own a vehicle."
Both men are excited about the Ark. "It's some big project to be a part of. And with that, I like the idea of engaging with the public, and maybe in a small way we'll show that a simple, structured, ordered lifestyle has value as well."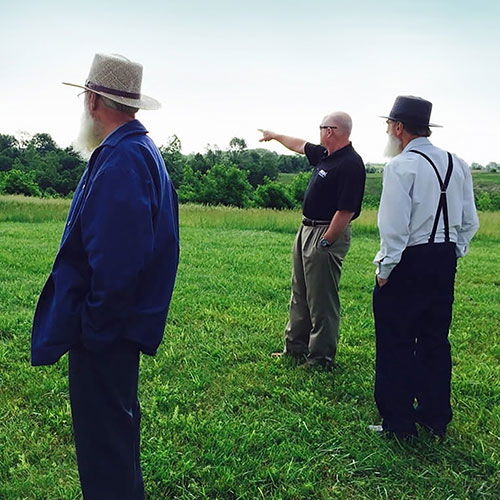 Concerning the non-Amish construction workers on site, Orie says, "It's important to interact in a healthy way, with integrity and good relationship principles—to interact in a God-honoring way and to be a witness. Our communities are growing. We are visible, and we have a responsibility to be a moral and virtuous community that has a message. And if we can't do that, then we are missing the mark."
He also spoke of a dangerous tendency among conservative believers. "I think it's important that we reflect the values, not of somebody's idea of a simple lifestyle, but of Jesus Christ. We get all bound up in religion. We worship a lifestyle, but we lose sight of the spiritual value." Stressing that people cannot come to God based solely on their parents' faith, Orie said, "Every generation has got to connect with the spiritual aspect of what we believe, and not just build on what our forefathers did. We have to reconnect spiritually. There are no grandsons [of God]."
At the Ark Encounter, visitors will be confronted with the truth that each person must respond individually to the gospel for salvation. The full-size Ark will stand as a testament to the historical reality of the Flood judgment and the awesome reality of coming judgment. Each of us must respond, as Noah did, by faith in God's Word (Hebrews 11:7).
Reflecting on Noah and what he and his workers accomplished, Ernest says, "You have to really appreciate the work they did. It's not clear how they did it, but the Bible implies that people were very smart back then. An authentic Ark doesn't mean it has to be exactly like it was in the Bible. It has to be functional. It has to be of a similar size and structure. This is as close as you are going to get."
Ernest and Orie have a passion for building, and they enjoy the satisfaction of a completed project: "When you're done, you can look at it and say you were a part of it." But much more important to them is the impact of the Ark Encounter after it opens. Orie speaks for both men when he says, "I would just love to see revival in the whole country."