At the close of our previous post, we referenced the fact that "we do not wrestle against flesh and blood, but against principalities, against powers, against the rulers of the darkness of this age, against spiritual hosts of wickedness in the heavenly places" (Ephesians 6:12) and that "the king's heart is in the hand of the Lord" (Proverbs 21:1). Today, we witnessed an incredible blessing in a situation that seemed bleak when one man's attitude toward us changed dramatically.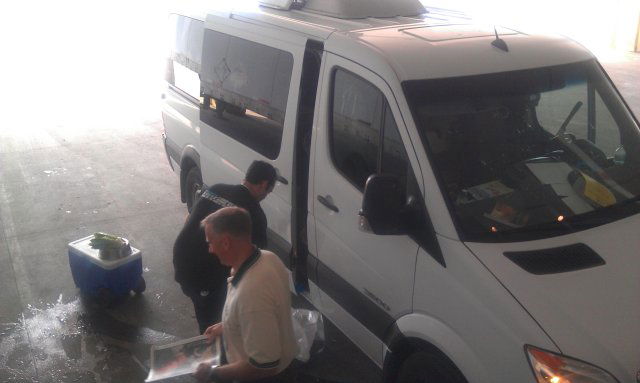 We mentioned that Dan Breeding was bringing along an assortment of exotic creatures with him to showcase God's handiwork. Dan uses a specially modified van to provide a controlled environment for these animals, and we needed to keep that van parked close to the exhibits (much closer than the parking garage allowed) so that he could check on the animals throughout the day.
In seeking permission to use the loading dock area, we encountered extreme opposition and hostility from Carlos the manager. This man clearly had no intention to allow us to park there. Suddenly, he did a complete 180. Not only did he allow us to use the space, but he started going out of his way to help us, and he even provided us with his cell phone number to call if we had any problems.
What a great God we serve!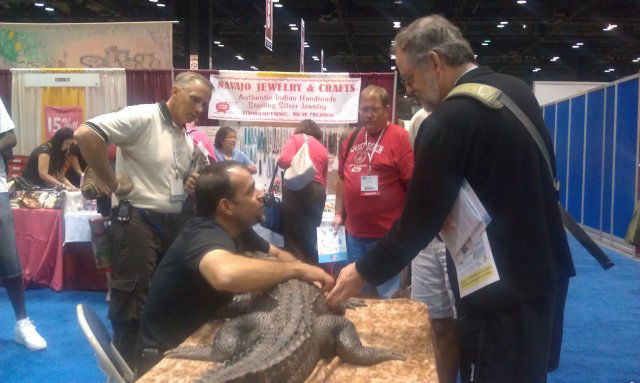 Thanks to God's provision, Dan's animals have been able to have a fantastic impact so far, especially "Auggie" the alligator. The crowds he has drawn have been so large that we actually received complaints from surrounding vendors, saying that we are keeping people away from their booths. But ultimately, the purpose for attracting all these people is to share with them the wonderful Good News of Christ Jesus. God has given us the chance to plant many seeds today, and we know that His Word will not return void.