Dan Phelps is the evolutionist who was quoted in an Associated Press article (printed in many newspapers around America, including in today's edition of our hometown newspaper, the Kentucky Enquirer), responding to the news that the Creation Museum was donated a world-class dinosaur fossil.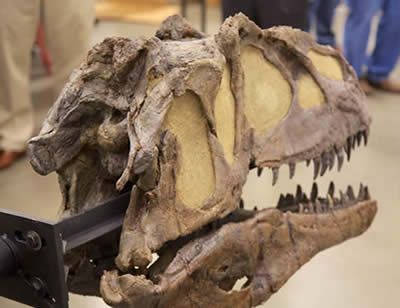 According to the AP article on our new allosaur and its impressive skull and other bones, Dan Phelps is quoted as saying, "Of course since the Creation Museum doesn't do scientific research, all (it) really has done is obtain a nice display trophy."
Well, why should we be surprised at such a statement, when a very pro-evolution website, Panda's Thumb, stated the following about Dan Phelps:
Daniel J. Phelps is President of the Kentucky Section of the American Institute of Professional Geologists and Chairman of the Geology Section of the Kentucky Academy of Science. He is also founder and President of the Kentucky Paleontological Society, a well-respected amateur paleontological organization.

Dan is also among the most active scientists in debunking Answers in Genesis' Creationism Museum, to the point that AIG whines about it. Dan has been tireless in critiquing the museum and the faux "science" it promotes.
It's interesting. When the Creation Museum first opened, there were evolutionist scientists who claimed we didn't have real fossils so we couldn't be a real museum. Actually we do have an outstanding collection of real fossils. But now that the news is public that we've been donated a world-class dinosaur fossil, the claim is made that we don't do any scientific research!
Well it would be interesting to line up Dan Phelps' qualifications, field research projects, and publications against those of the director of research at Answers in Genesis and the Creation Museum, Dr. Andrew Snelling, who is quoted in the AP article about the allosaur.
For instance, compare the following bios:
Dan Phelps graduated from Lafayette High School in 1980. He graduated from the University of Kentucky in 1984 with a BS in Geology, and in 1990 with an MS in Geology. His MS thesis was on the stratigraphy and paleoecology of the Silurian Louisville Limestone. While in graduate school he consulted for various oil companies and sometimes taught introductory labs and was occasionally a substitute lecturer. Upon graduation he moved to Plano, Texas to work for ARCO Oil and Gas's Plano Research Center. In 1994 he returned to Kentucky and worked for the Kentucky Revenue Cabinet as a coal geologist. In late 1994 he was hired by Kentucky Environmental Protection and has since worked in the Hazardous Waste, Underground Storage Tank, and Superfund branches. From 1994 to 2000 he was a part-time assistant to Dr. Nicholas Rast, the North American Editor of The Journal of Geodynamics, and completed the peer review process for papers received before the unfortunate death of Dr. Rast. Beginning in 1998, he was hired as a part-time professor at Lexington Community College (now Bluegrass Community College) to teach Physical Geology, and Dinosaurs and Disasters (a class on the history of the earth and life, with an emphasis on dinosaurs). Presently (2007), Dan is President of the Kentucky Section of the American Institute of Professional Geologists. He is also Chairman of the Geology Section for the Kentucky Academy of Sciences. He is founder and President of the Kentucky Paleontological Society (http://www.kyps.org); one of the most respected amateur paleontological organizations in the United States. In 2004 the Kentucky Section of the American Institute of Professional Geologists, awarded Dan its "Geologist of the Year" award for his efforts in educating the public about geology and paleontology. Additionally, Dan is well known for his efforts in organizing Kentucky's scientific community to oppose teaching creationism and intelligent design creationism in public school science classes. He has written numerous letters to the editor and op-eds on this subject. (http://www.kyacademyofscience.org/members/awards.php?page=superlative&year=2008, emphasis mine)
Dr. Andrew Snelling is a geologist, research scientist, and technical editor. He completed a Bachelor of Science degree in Applied Geology at the University of New South Wales in Sydney, Australia, graduating with First Class Honors in 1975. His Doctor of Philosophy (in geology) was awarded by The University of Sydney, Australia, in 1982 for his research thesis titled "A geochemical study of the Koongarra uranium deposit, Northern Territory, Australia." Between studies and since Andrew worked for six years in the exploration and mining industries in Tasmania, New South Wales, Victoria, Western Australia, and the Northern Territory variously as a field, mine, and research geologist. Dr. Snelling has had papers published in a variety of publications, including a number of secular journals such as Journal of Geochemical Exploration, Applied Geochemistry, Mineralium Deposita, Uranium, and Proceedings of the Pine Creek Geosyncline Symposium. He was a consultant to Alligator Rivers analog project—an international collaborative project funded by the USA Department of Energy—involved British, Japanese, Swedish, USA, and Australian scientists. It was an Australian project initiated by the Australian Nuclear Science and Technology Association and also a consultant for an International Mining Company (Denison). Dr. Snelling (while employed by Answers in Genesis) is currently involved in active field research, including radioisotope dating of meteorites, radiohalos in granites and metamorphic rocks including in the Grand Canyon, fossil stromatolites in the fossil record, and a general study of radioisotope dating. He has also conducted extensive field research at the Grand Canyon, Mt. St. Helens, on New Zealand lava flows, on uranium deposits in Australia, on carbon dating, and many other dating methods. Andrew is also the editor of the Answers Research Journal, which is available through the AnswersInGenesis.org website. (See Dr. Andrew Snelling's bio for more information.)
For Dan Phelps to say, "Of course since the Creation Museum doesn't do scientific research, all (it) really has done is obtain a nice display trophy," is simply wrong, and he needs to acknowledge his error.
Not only does Answers in Genesis and the Creation Museum (which is owned by AiG) have a research division, it is a very active research department headed by an experienced and published scientist. AiG has other scientists on its staff who also have published in secular and Christian publications and are involved in active research, such as Dr. Danny Faulkner (astronomy), Dr. Georgia Purdom (molecular genetics), and many others on our full-time faculty. The Creation Museum also works with many experienced and published scientists in various parts of America and around the world.
It should be pointed out that Dan Phelps is known for his regular attacks on the Answers in Genesis ministry and the Creation Museum. Really, it wouldn't matter how qualified our scientists are, how many articles they've published, or what active research they are involved in, Dan Phelps would dismiss it all because he has already determined that if they believe in creation, they can't be considered scientists. His emotional attachment to his evolutionary beliefs is why he makes the irrational statements he does.
Even with the credentialed scientists at the Creation Museum, and the high quality exhibits and specimens we possess, evolutionists like Dan Phelps will continue to "suppress the truth" as Romans 1 tells us, unless their hearts are opened to the truth of God's Word. We need to pray that the light of God's eternal truth will shine on Dan Phelps' heart.
Thanks for stopping by and thanks for praying,
Ken