As of today, all tickets purchased for Creation Museum entrance will be valid for two days! Here is yet another reason to include a visit to the Creation Museum as a part of your summer plans.
The museum has already established its reputation as a family-friendly location with much to see and do. In recent years, we have been offering guests the opportunity to visit the museum for two days and receive a discount for the second day by purchasing a two-day ticket . You see, many guests were telling us that there is too much to do at the Creation Museum in one day, so we decided to offer a two-day discounted pass. That idea has gotten even better. As of today, we'll now be offering more value to our visitors: any ticket purchased for admittance to the Creation Museum is good for two consecutive days!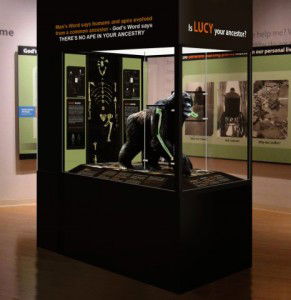 Since opening in 2007, we have added significant exhibits every few months—even a petting zoo. Thus many of our guests have wanted to spend two days here. Last month, for example, we opened the Johnson Observatory with some excellent telescopes (viewings held on some select evenings). And this Saturday morning, we will open a brand-new, high-tech exhibit on "Lucy," which evolutionists use as perhaps their best example of how humans evolved from an ape-like ancestor. It's a stunning exhibit! You really need to see how we have used holographic technology to show museum guests that Lucy is no such "missing link."
To show you how the museum can be a two-day destination, here is comment from a homeschooling mom who toured the museum with her family recently (slightly edited):
I highly recommend two days when touring the Creation Museum with kids. We were able to space out the main museum walk through the Seven C's and the other fun things we wanted to do, like hiking through the gardens and watching the planetarium show. It would have been impossible to fit everything we wanted to do into a single day without turning our experience into an over-managed-child-frustrating-mother-crazifying nightmare.

Two Days = A must for families. This way we could let each of our children enjoy something that was of interest to them without rushing them through the experiences.

(http://www.untrainedhousewife.com/visiting-the-creation-museum-with-a-family)
Also, as a way to further lower the cost to families who are excited about the possibility of visiting the Creation Museum, a $5 discount, starting after June 3, is being offered to any adult ticket that is initially purchased for use on a Tuesday or Wednesday and then used the next day. (That $5 discount is only available while on-site and not through the web.)
By the way, did you know that a highly popular U.S. travel book produced by Lonely Planet (based in Australia) has picked our Cincinnati area as one of the "top 10 U.S. travel destinations for 2012." It describes Cincinnati as the "pretty city on the Ohio River"—a city that has "transformed itself in the last decade into a worthy weekend getaway."
There are many other great attractions in the region. For example, Dayton (which is north of Cincinnati) contains the largest Air Force Museum in the world, as a walk through the history of flight and the history of World Wars 1 and 2 and the Space Age—and it's free! Also near us are the Cincinnati Zoo, the Newport Aquarium, the Underground Railroad Museum (about the slave trade), and much more. So make Cincinnati the destination for your vacation.
Go to creationmuseum.org for more information.
Thanks for stopping by and thanks for praying,
Ken