Facebook, Twitter, Pinterest, YouTube, Instagram—people today are always connected. If you have a publicity coordinator on your team, the use of social media to promote your church's VBS is a big area to ponder. Here's how you can use social media to spread the word about VBS.
Event Invites
If you were to look at your friend list on Facebook, you will likely find many parents of children who need to hear about Jesus Christ. Creating an event on Facebook allows you to let everyone know that your church is having VBS. Additionally, everyone on your list can invite all of their friends to expand your reach exponentially. While it isn't the most personal way and probably shouldn't be your only way of inviting, this can be a successful way to invite a large number of people that may not have heard about VBS or your church otherwise.
Frequent Updates
Get kids and parents excited about VBS! This is important not only before it happens, but during and after too. Status updates can be used to give information ahead of time, share important points from the lesson for parents to reinforce, or show what the kids did throughout the week. Be sure to share on your personal page as well as on your church's page. You may also want to set up a page specifically for your VBS program that you can use to give updates. Or start a "group" on Facebook for your VBS. You can also use your church's webpage and blog to announce your VBS. Be sure to get permission from parents/caregivers before sharing photos or videos of children online.
The Answers VBS Facebook page shares lots of informative articles, blog posts, illustrations, and videos that you can use to share on your page.
Record the Fun
After all of the planning, VBS has finally arrived. Why not share the fun? Consider recording moments from VBS, especially your drama presentations, to share online. Getting parents to share pictures or videos could be a major factor in encouraging others to come to VBS or catching them up on the storyline of the drama. Start a hashtag for your particular church to collect the various posts, or use a general one (#vbs2016, #oceancommotion) to connect with others around the country.
Additionally, we have heard reports of churches that put a video together documenting the events of VBS week to share with families or the congregation. You can use YouTube or Facebook to show videos, or use one of the new live broadcast tools like Periscope or Facebook's Live feature. Again, be sure to get permission from parents/caregivers before sharing photos or videos of children online.
Pass it On
Over the years, we have seen some great ideas from churches based on the Answers VBS theme. These great ideas often show up on Pinterest that other churches can then use for their own program! The Answers VBS Pinterest page collects some of the best ideas to share unique ways to theme your classrooms and decorations for a great VBS experience!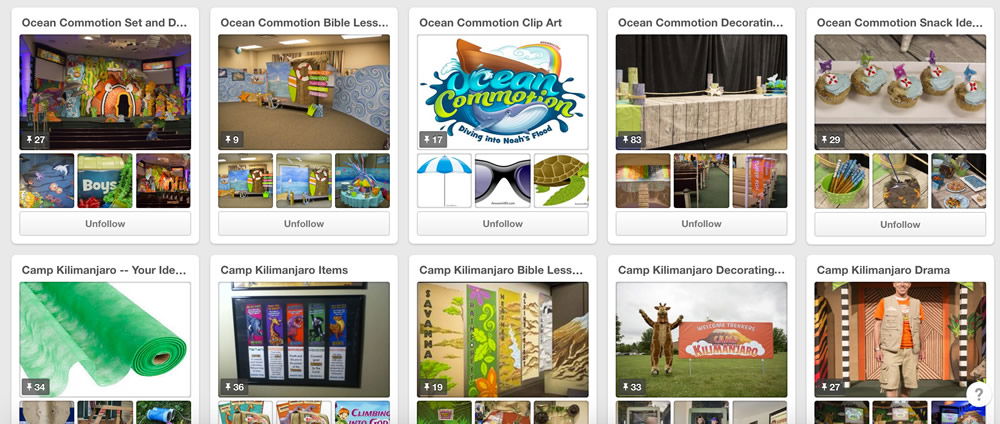 Connect with Us
Connect with Answers VBS on social media to get great resources, ideas, and these blog posts to share with your team.