Meerkat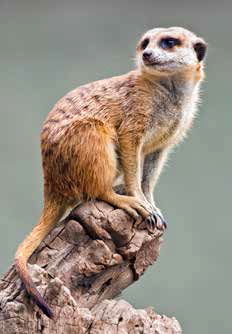 What are those cute, furry, pointy-nosed animals that scurry across the deserts of southern Africa? Meerkats. But how can they survive in such a forbidding region? One secret is community cooperation.
Reaching up to 50 members in a clan, or mob, each furry team-member does its share to serve the whole. While the rest of the mob forages for food, one or more sentinels diligently stands guard to warn of predators. Back in the burrow, babysitters are tasked with watching the new pups.
But most interesting is their shared task of training the next generation of young pups. Males and females, young and old, train the newest family members. The young recruits join the clan on the hunt, watching and learning how to search for and kill their prey. A mentor will teach the pup first where to find bugs and larvae and then progress to killing scorpions (with their stingers carefully removed).
Each member must do its job to keep the clan healthy and thriving. What a lesson for us! God likewise gave gifts to the members of Christ's body to benefit the whole body (1 Corinthians 12).
COMMUNITY SERVICE Meerkats survive in the dry regions of southern Africa because they selflessly share tasks for the good of the community, including sentinel duty, to guard the clan during hunts. Likewise, Christians are called to serve the body with the gifts God has given each of us (Romans 12:5—8). Photo by Bob Jensen.

Baby Goose Baby animals can be adorable, and this baby goose is no exception. Within a week, however, it trades its yellow fuzz for gray, and within about ten weeks it gains its flight feathers. God provides for each bird from birth to the end of its life (Matthew 6:26). Photo by Rick Smotherman.

Zion National Park Beauty. Simple, awe-inspiring beauty. This view from Zion National Park in Utah is a testament to the power of the global Flood and later catastrophes that God used to reshape the earth into a new, beautiful home. We see reminders of the Lord's glory everywhere, even if they arose from judgment on the world because of mankind's sin (1 Chronicles 16:29). Photo by Paul DeCesare.
Zion National Park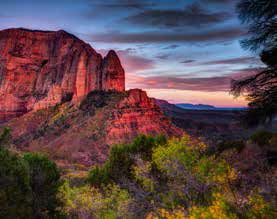 ---
Baby Goose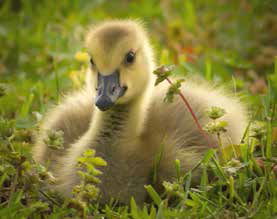 Send Us Your Photos . . .
Have you snapped the most amazing pictures of God's creation? Now you can submit your photos to Answers to be published!
In this new section of Answers magazine, we want to see the wonder of God's creation through your camera's lens. We look forward to seeing all the amazing photographs from our readers. Photos can be of animals, amazing landscapes, and geologic features—anything that showcases the wonder of creation. Get more details and submit your photos at www.AnswersMagazine.com/ThroughYourLens We can't wait to see more amazing shots!